Top 10 Best Electric Deep Fryers of 2023
If you crave the crispy fried food served in restaurants but don't want to pay the steep prices, a deep fryer can be a great investment. There's a wide range of deep fryers to choose from based on your budget and cooking demands. Some fryers cater specifically to meat eaters, with large frying baskets, while others are designed for general use. When you're shopping for a deep fryer, keep in mind that certain features, such as temperature control or automatic oil draining, can greatly increase the price.
Frying food isn't the healthiest option, but it is delicious and can be enjoyed occasionally in conjunction with a balanced diet. The key to frying food that is crisp, golden brown and not greasy is the temperature. You need a deep fryer that can reach the proper temperature ideal for frying and that can recover its temperature quickly after you add food. Deep fryers with adjustable thermostats and digital displays take a lot of guesswork out of frying.
One of the biggest concerns about deep fat fryers is safety. We chose several models that have closeable lids and encase the hot oil and food, keeping oil splatter to a minimum. Here's our top 10 Best Electric Deep Fryers of 2016.
10. Hamilton Beach 35021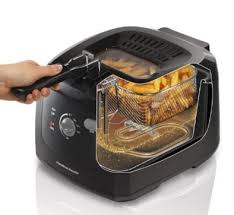 Hamilton Beach 35021 is a dark-theme deep fryer with a generously sized deep frying bucket for greater versatility. The cool touch sides won't burn your hands if touched accidentally, giving you peace of mind when cooking food. Food can be lowered into hot oil and lifted out while the lid is closed for splatter-free frying. In addition, this Hamilton Beach 2-Liter Cool Touch Deep Fryer cooks faster than a leading competitor and the eight-cup oil capacity allows you to cook six cups of French fries or chicken tenders. This Hamilton Beach Deep Fryer provides the capacity and safety you are looking for, making this purchase a smart choice.
9. Cuisinart CDF-100

Fill the 3/4 lb. capacity basket and place it in the nonstick die cast bowl with attached heating element for fast frying and superior results. A removable charcoal filter helps remove odors, keeping cooking clean and healthy. Has an adjustable thermostat, fast heat-up and frying, nonstick die-cast bowl with attached heating element for superior heating. Has a maximum oil capacity is 1.1 liter.
8. Masterbuilt 20010610

Countertop-safe design makes frying easy with an extra-large basket, one-gallon oil capacity, and a powerful 1,650-watt electric element with a breakaway magnetic power cord. The digital timer helps you cook your batch of fish, fries, chicken, and more for just the right length of time, and the adjustable thermostat maxes out at 375 degrees Fahrenheit to prevent the possibility of overheating. Basket features a detachable handle for easy storage.
7. Secura Stainless Steel Deep Fryer

The Secura 1700-Watt stainless steel deep fryer is easy to use and it is an appliance that provides great results. The consumer gets three baskets with the large basket being able to cook a lot of food at one time and the 2 regular size baskets allowing you to cook more than one thing at a time. Diversify frying with multi fry single/double basket design. Has a spacious 4.2 liter capacity and easy to use digital control panel.
6. National Presto 05461

1800-watt immersion element provides quick preheating and fast oil temperature recovery. Big 8-cup food capacity. Oblong-shaped basket is ideal for frying large pieces of chicken or fish. Select from a variety of frying temperatures with the adjustable thermostat. Signal light indicates when the oil is ready for frying. Versatile basket is great for steaming vegetables and seafood.
5. Secura 4.2L/17-Cup

Secura Deep Fryer with 3 baskets and 4.2L capacity is perfect for a whole family or friends gathering together 4L capacity. Have a splatter-protecting lid, magnetic safety plug, removable oil tank and automatic timer adjustable up to 60 min to shut down heating element. Filter Carbon activated filter reduces odors. Basket Handle Easily attaches to wire basket to lower food into the fryer and to also lift out cooked food. 3 cooking baskets can be hung on the edge of the deep fryer for food preparation before lowering into the oil.
4. Waring Pro DF280

A stainless steel finish and pouring spout highlight this deep fryer. The deep fryer has three baskets, a 1-gallon capacity and a pouring spout for easy clean-up and emptying. Cook up the perfect onion rings, make the perfect fries, enjoy crisp mozzarella strips, or fry any of your favorite foods up in this easy-to-use Waring Pro deep fryer. The triple baskets let you cook more than one food at once, so you're prepared for a casual party or the big game.
3. T-fal FR4049 Family Pro

Offering a generous 3.3-liter oil capacity and 2.65-pound food capacity, the family-size fryer works great for anything from fried chicken and beer-battered fish to corn dogs, doughnuts, hot French fries, and more. The 1600-watt fryers adjustable thermostat allows for selecting the perfect cooking temperature, while its heating element quickly recovers to the selected oil temperature for batch after batch of reliably crispy results. The fryer provides a temperature-ready indicator light, a 1- to 60-minute countdown timer, and a viewing window in the lid for at-a-glance monitoring.

2. Hamilton Beach 35034

This large capacity Hamilton Beach Deep Fryer is generously sized for greater versatility and comes with three cooking baskets for added convenience. Hamilton Beach Deep Fryers feature adjustable heat and convenient timers. The double baskets allow you to cook different foods at once, while that larger single basket is great for preparing food for a crowd. You will love the professional stainless steel styling and the adjustable timer comes with an audible tone when cooking is complete. The breakaway cord provides additional safety making this deep fryer a smart choice.

1. Hakka Commercial Stainless Steel Deep Fryers

This professional fryer has an eight liter capacity with a 120V, 1500 Watts, 15 amp, 60Hz power rating. It reaches a maximum temperature of 392°F with a 9.5 by 7.5 by 5.5 inch basket. It has a beautiful look with restaurant quality, brushed stainless steel, and it includes a one year warranty. It has plenty of extra features such as the counter balanced, hinge out heating elements and indicators that show the heating situation. The over temperature safety cut out feature means you'll avoid dry burning. It's easy to clean with a dismantled and folded handle. With an over-all measurement of 18.5 by 15 by 13.2 inches and a weight of 16.6 pounds it easily fits into any commercial kitchen setting.