Top 10 Best Dishwashers of 2023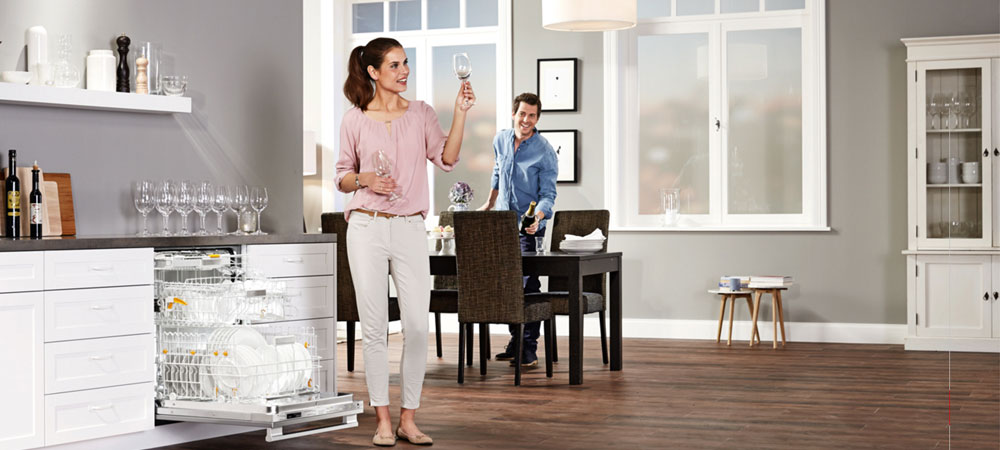 People who have a busy schedule usually forget to wash their dishes and simply leave it in the sink. After a long day of work, we are just too tired to care about it. Some people even put this chore off until their sink is overflowing with dirty dishes. The answer for this tedious household chore is buying a dishwasher. However, for people who live in small apartments or house will definitely have limited kitchen space. Thus, space is another problem. The good news: there are several portable countertop dishwashers that you can purchase.
A countertop or compact dishwasher is a small dishwasher that sits on top of a counter or any other flat surface in the kitchen. Below is our list of top 10 best dishwashers that has the same capabilities of a full-size dishwasher but is much more compact, portable, and uses less energy. Moreover, they have a quick connect adapter that easily connects to a standard kitchen faucet.
10. Frigidaire 18-inch Portable Dishwasher

For homes with limited kitchen space, Frigidaire 18-inch portable dishwasher is the right choice. The combination of portability and multiple cleaning cycles make it an ideal dishwasher. With SpaceWise multi-compartment silverware basket, it ensures that every utensil has a place. Other features included are: 1-3 hours delay start option; ready-select controls; topped off with premium stainless steel exterior; folding bowl tines makes organization easy; stemware or champagne glass holders; UltraQuiet III sound package; it doesn't require batteries; and it offers English, French, and Spanish language.
9. GE GSC3500DWW Portable Full Console Dishwasher

One of the best dishwashers is GE GSC3500DWW Portable Full Console Dishwasher. This machine is very portable because its dimensions are 24.9 x 27 x 36.4 inches and weighs 147.7 pounds. It includes features, such as 12 place settings, hard food disposer, 5 wash cycles that have 5-level PowerScrub wash system, and it is energy star rated. Plus, it is designed with wood grain laminated top.
8. Magic Chef MCSCD6W3 Countertop Dishwasher

Clean your kitchen utensils with Magic Chef MCSCD6W3 Countertop Dishwasher. The features of this equipment are 6 place setting capacity, 5 wash cycle options that can be selected using the program knob, easy-to-use electronic tools with digital display, organized interior arrangement using cutlery basket and cup rack, hygienic residual drying system that avoids using air outside the dishwasher, floating switch anti-flood device protection when water level is too high, and it has automatic detergent and rinse aid dispenser.
7. Midea Countertop Dishwasher

Perfect for places with a small kitchen like dormitories and apartments is the Midea Countertop dishwasher. It can wash dishes like a traditional large-scale appliance and connects quickly to any kitchen tap. You can enjoy its advantages of friendly use clear performance and low energy and water consumption. It has features of 6 washing cycles, one to 24 hours delay start function, automatic detergent and rinse agent dispenser, electronic LED display, durable stainless steel interior, and two-level pullout dish rack that can hold up to six place settings.
6. DishDrawer Series DD24SCX7

If you are looking for a dishwasher for your home, try DishDrawer Series DD24SCX7. Its dimensions: 22.5 x 23.6 x 16.1 inches and weighs 65 pounds. It is made up of durable stainless steel with features like a semi-integrated single drawer with 7 place settings, 9 wash cycles featuring Eco Option, adjustable racks, quiet operation, delay start option, 163 degrees sanitizing temperature, and this product is energy star approved.
5. Avanti Model DWE1801B Built-In Dishwasher

You can easily integrate the Avanti Model DWE1801B Built-In dishwasher in any kitchen using its built-in installation feature. Other features included are: 4 automatic cycles; 8 standard plate settings capacity; stainless steel interior that can resist stains and corrosion; the upper and lower racks have handles and is coated with nylon; it has an additional one-piece silverware basket; three-stage filtering system; power indicator light; electronic controls; rinse aid dispenser; integrated recessed handle; and ADA compliant. The size of this dishwasher is 17.75 x 21.75 x 32.25 inches and weighs 67 pounds.
4. Koldfront Countertop Dishwasher

Washing your dishes is now easier with Koldfront Countertop dishwasher. This portable dishwasher is standing just over 17 inches tall and has a low profile that fits comfortably under most cabinetry without permanent installation required. It only uses 200-kilowatt hours per year, which is approximately 61% less energy than other countertop dishwashers. Plus, it only uses very little amount of water. Thus, you can save your water and electric bill. The dishwasher is designed with 6 place settings with a cutlery basket and cup shelf for organization, 6 wash cycles, stainless steel interior, powerful spray arm for deep and thorough washing, built-in rinse agent dispenser, internal water heater and heavy wash cycle that eliminate germs and bacteria, and can be easily connected to kitchen tap.
3. EdgeStar Countertop Portable Dishwasher

Safety in the kitchen area is the top priority of EdgeStar countertop portable dishwasher. It has a child lock function so that children won't be able to open the dishwasher. Moreover, it can easily fit under most cabinetry with its dimensions of 17 x 21 x 19 inches. Its features are: six standard place setting capacity; can hold plates up to 10.5 inches in diameter; six wash cycles; digital control panel with LED display; delayed start feature; input voltage of 120V or 60Hz; stainless steel interior; and 5-foot hose included.

2. Danby DDW611WLED Countertop Dishwasher

Keep your dishes clean with Danby DDW611WLED countertop dishwasher. It is small, compact, and doesn't take too much space which is perfect for kitchens with limited space. Moreover, it will help you save money on your water and electric bill because it is energy star approved and only uses 3.17 gallons of water during the normal cycle. Other features are: 6-place setting capacity; automatic detergent and rinse agent dispenser; electronics with LED display; 6 wash cycles; durable stainless steel interior; and can quickly connect to any kitchen tap.

1. SPT Countertop Dishwasher

The SPT countertop dishwasher is perfect for apartments, office kitchens, or any place with small kitchens. It offers full-size power in a compact design. With its height of only 17.24 inches, it can easily fit between most countertop and cabinetry. This dishwasher is designed with:
Six standard place settings
Durable stainless steel interior
Water temperature of up to 148 degrees Fahrenheit
Easily connects to any kitchen faucet without direct plumbing or permanent installation
6 wash cycles that effectively clean your dishes
It has sleek silver finish that is ideal for any contemporary kitchen
Energy star certified; you can save on your electric bill