Top 10 Best Guitar Capos of 2023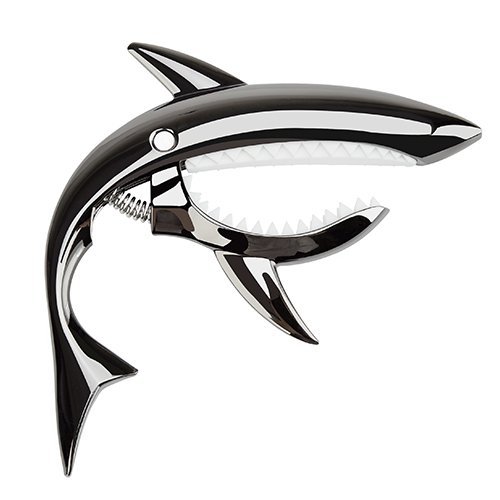 As a musician, there are many equipment and things you need in order to make different kinds of sounds which would somehow make you music appeal in such a way. Most people know how to play guitar than any other instrument, and they would usually search for guitar chords online for a song that they would want to play. But there are times when you try to sing while you play, either the key is too low or too high for you, and you don't know how to transpose from one chord to another. Good thing that there are capos, by just placing them on you preferred fret, you can sing and play any song in any key that you like.
10. Kyser KG6B 6 String Capo

This is one of the capos which is commonly bought by beginners and professionals alike. You can clip it on the fret using only one hand. And it is pretty much light since it is made of lightweight aluminum. You can also easily transfer form one fret to another and it can firmly clamp on the neck of your guitar to hold the intonation. You can easily play the chords that you want since it doesn't interfere with fingering.
9. KLIQ K-PO Guitar Capo for 6 String Acoustic and Electric Guitars

If you are that type of person who wants to play both electric and acoustic guitars, this capo is the right one for you. Since it is very easy to put on, a lot of musicians would use this during their live shows. It be easily transferred to the next fret with one hand. You don't need to worry if you think that it the capo would have too much pressure, it will leave a mark on your guitar, this capo is calibrated to have the right amount of pressure in every fret.
8. Dunlop 83CB Acoustic Trigger Capo, Curved

It may be unusual in shape but it is precisely because of that, which makes the positioning of the capo so easy. It is light yet strong since it is made from aircraft quality aluminum, and its strong spring holds the capo firmly in its place and prevents it from slipping. With its strong grip, you can be assured that you can make a clear and loud sound from your guitar.
7. Shubb Deluxe S Series Steel Strings Guitar Capo S1

You are not content on the sound that you guitar makes, you can always adjust the pressure of your capo. With Shubb Deluxe S Series Steel String Capo you can make adjustments using the knob. The capo is made with stainless steel which makes it more resilient compared to other capos, also it can be clamped and released easily. The rubber is designed in such a way that it doesn't bend the strings. This capo can be used for both electric and acoustic guitars.
6. CROSSTREE 6-String Guitar Capo Acoustic & Electric Guitar Capo

It may look breakable since it kind of looks like wood, but it is not. It is made of lightweight aircraft grade aluminum alloy metal and it is only colored in such a way that it looks like wood and it is built to last. Although it is made from metal, it is super light. One would think that this capo is only good for acoustic guitars, well, it's not. You can use it for electric guitars, ukulele, banjo, folk guitars and mandolin. The rubber or the pad used would prevent your guitar from having scratches because of the pressure.
5. Coocheer Single-handed Aircraft-Grade Aluminum Capo

If you want a capo that is easy to use, where you won't have a hard time clamping t on the frets or releasing it afterwards, Coocheer Single-handed Aircraft-Grade Aluminum Capo Quick Change Capo is the one for you. It is made of aluminum alloy which makes it durable and lightweight at the same time. It can also be used by just using only one hand, and the pressure that it gives is just enough to stop the buzzing sound and makes sure that the intonation is in tune. The pads or the rubber it has makes sure that it won't leave any marks or scratches once you use it.
4. Planet Waves NS Guitar Capo Lite

If you are that kind of person who is very particular in the sound quality that you produce, this capos is a must-have for you. since it has a micrometer tension adjustment, you can be assured to silence out those vibrations which are not really nice to hear. You can use just one hand when you want to transfer this capo from one fret to another. And this capo is designed for acoustic and electric guitars with radiused fret boards, although it is not recommended to use on guitars with 12 strings.
3. Shubb 12-String Guitar Capo – Nickel Finish

When you are already a guitar expert, where you can play a 12-string guitar, but somehow you want to create a sound that is fairly unique than others and you want to match the pitch to your own. Shubb 12-String Guitar Capo makes playing music easier and better. It is not only used for 12-stringed guitars, it is the ideal capo for any steel guitar with a wide fret board.

2. Shark Zinc Alloy Spring Capo for Acoustic and Electric Guitar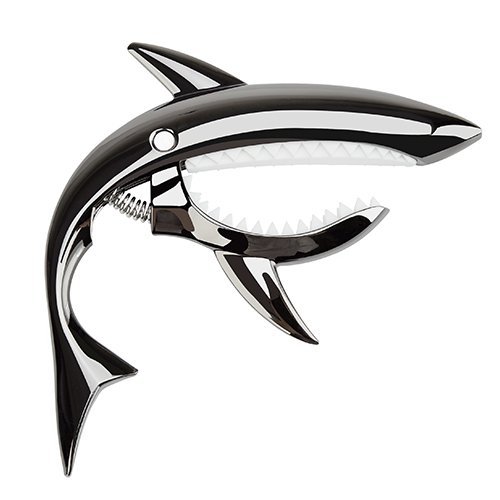 If you want to play awesome music and look cool at the same time, get this Shark Zinc Alloy Spring Capo. It is shaped and designed to look like a shark. It is made of high-grade zinc alloy and weighs for like 138 g. Even though it might be heavier compared to other capos, the design would make you stand out from the rest while playing. It could be easily re-positioned using only one hand and applies a pressure which is not too high or too low. The pads that it have is made of silicon and it protects your fret board from scratches or marks.

1. Shubb C1K (Capo Noir) Black Chrome Capo for Steel String Guitars

When you are already an expert in playing the guitar, there are things that you need in order for your music to sound better. Shubb C1K (Capo Noir) Black Chrome Capo is a capo that professional guitarists use when performing, since they are the ones who are particular in the sound that they make. This capo can be both used for acoustic and electric string guitars, and those whose fret boards are 2 inches wide with curved readiuses. It is also easy to snap to the neck of your guitar and remove it. Clamping it firmly to the fret enables your guitar to produce a sound and intonation of the highest quality.