Top 10 Best LED Rechargeable Lanterns of 2023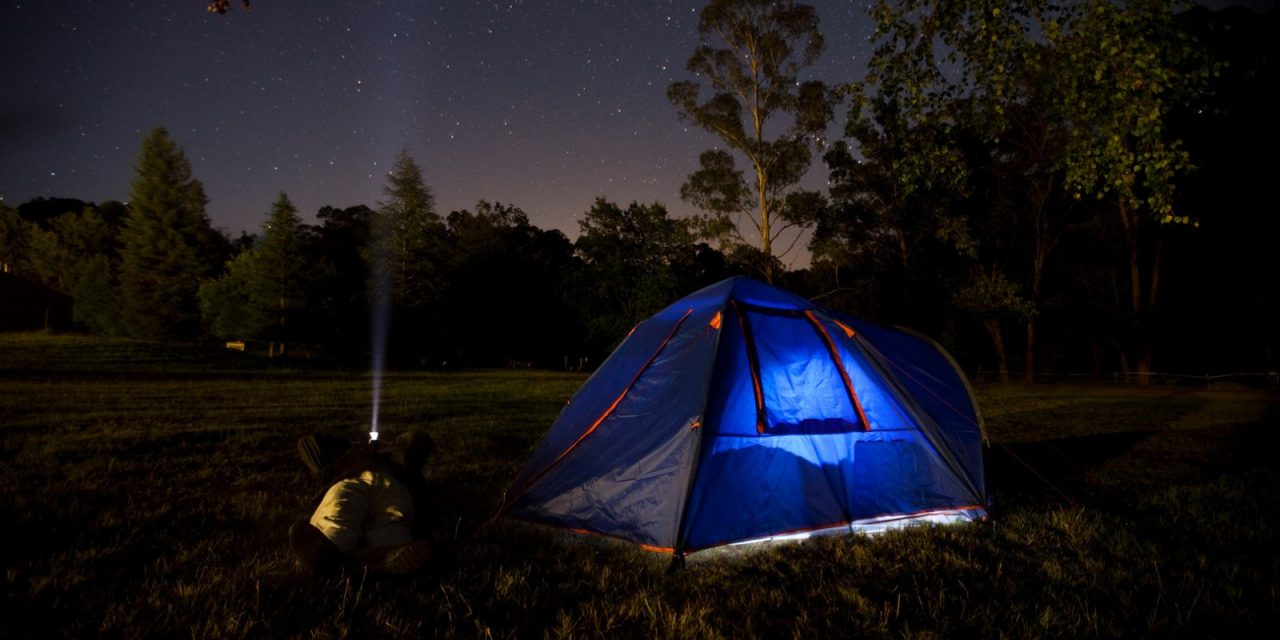 One of the most important gears in outdoor activities is a light source. In addition, it is also animportant part of your emergency kit. Some people argue which light source should be purchased – headlamp or lantern? As you can observe, headlamps can only be used by an individual and need to be mounted on a cap or the person's head. It is great to use if you need to use both of your hands and it will directly illuminate everything in front of you. On the other hand, lanterns are ideal to use if you need to illuminate a large area and it can be used by several people simultaneously.
Before purchasing a lantern, you have to consider several factors to find the one that will suit your needs. There are several types of lanterns: backpacking, camping, and for emergency use. However, most lanterns in the market can be used for outdoor activities as well as for emergency situations. A combination of these different types is a better choice because it will be useful in all kinds of situations. The most important factor is the features of the lantern: durability, brightness level, ease of use, and additional features. Below is the list of top 10 best LED rechargeable lanterns where you can choose from.
1. SUBOOS Gen 2 ULTIMATE Rechargeable Lantern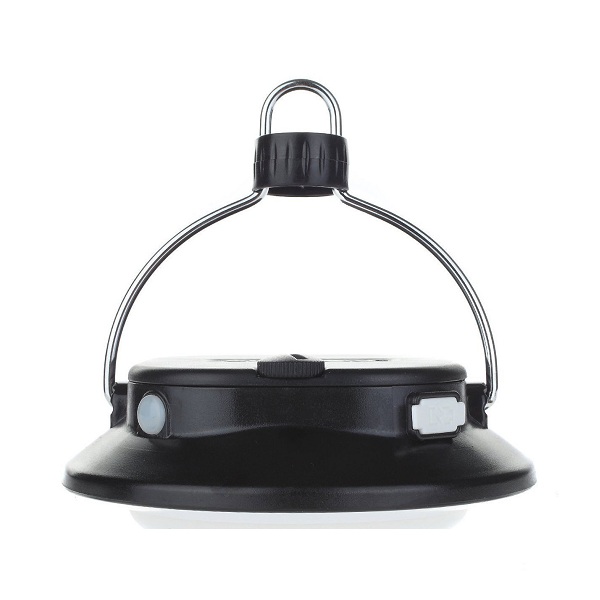 ☆ 3 work modes: super bright, regular bright, and red
☆ Super bright: 280 lumens; radius of 65 feet; up to 6 hours
☆ Regular bright: 100 lumens that last up to 18 hours
☆ Red: used for night vision and last up to 125 hours
☆ To switch between modes, push the transparent front button.
☆ Battery level indicator: blue = normal; red = low power
☆ Flexible battery options where you can use only 1 battery
☆ The cover has special frosted finishing so the light is tender.
☆ The metal hooker allows it to be fixed in 5 angles.
☆ The universal USB port can recharge your phone and the lantern.

2. Suaoki Collapsible Lantern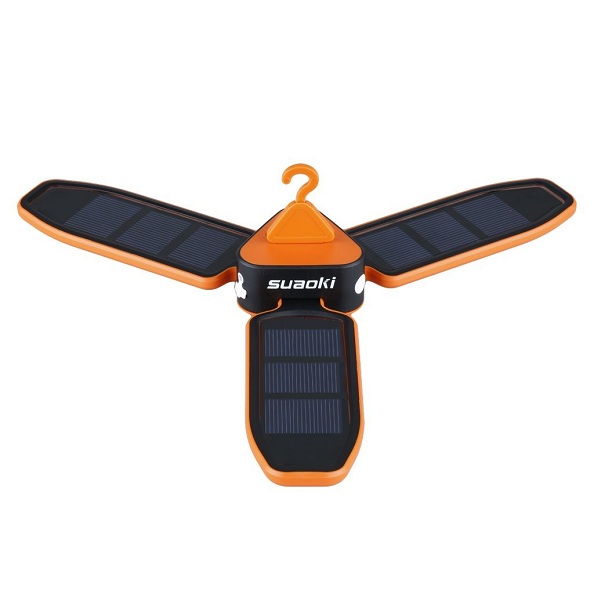 ☆ Used 18 LED bead and white light
☆ 3 light modes: high, low, and SOS blinking
☆ It is convenient to carry because it's foldable and durable.
☆ Can be charged using micro USB port or built-in solar panel.
☆ 3 solar panels are used when there are no outlets.
☆ Smart Protection Chip prevents overcharging, over-discharging, and over-circuit.
☆ Contains hidden hanging hook design so it can be used for camping.
☆ Full battery lasts up to 3.5 hours.
☆ The clover-shaped design allows adjustment ofthe light towards specific angles.
☆ Can be used as aflashlight (compressed) or lantern (expanded).

3. GYY 3-in-1 Solar Rechargeable LED Lantern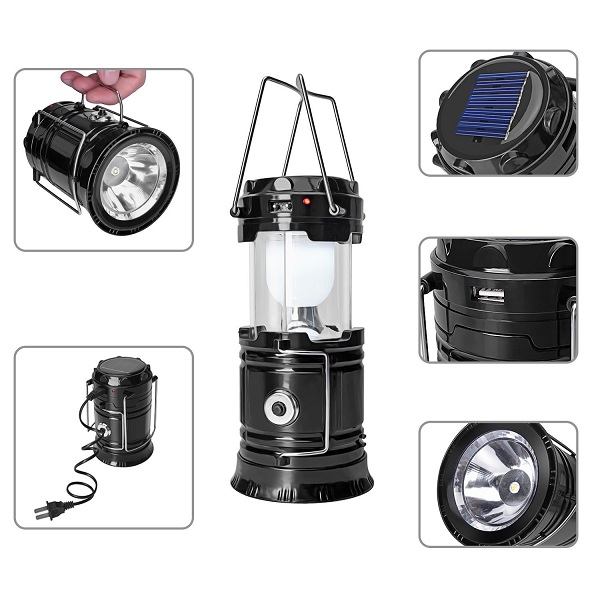 ☆ Designed with collapsible features and foldable handles.
☆ Uses 6 LED light bulbs with thebrightness of 180 lumens.
☆ 2 light modes: high bright light and medium light
☆ Fullycharged batteries last up to 12 hours.
☆ The lantern has a lifespan of 100,000 hours.
☆ 2 charging ways: built-in solar panel or wall plug for 110V
☆ The built-in polycrystalline solar panel is best for outdoor activities like camping.
☆ Contains protection for overcharging and over-discharging
☆ Made of military-grade plastic cover and stainless steel handle
☆ No need to worry about the weather because it's water-resistant.

4. Tough Light LED Rechargeable Lantern

Always be prepared for emergency situations by having the Tough Light LED Rechargeable Lantern in your kit. It is made of military-grade rubber and plastic molds, built-in rubber O-rings, and built-in hanging hook. Moreover, it is IPX-6 waterresistance and drop tested to 5 feet. Thus, you can use it for outdoor activities without any worries. This lantern is designed with 6 different lighting modes: high, medium, low, SOS, red, and flashing. In the high mode, it has 400 lumens output that can reach up to 85 feet and the batteries last up to 24 hours. The medium mode has an output of 162 lumens and the light reaches up to 52 feet with aruntime of 75 hours. If you don't need too much light, simply use the low mode with 40-lumen output, a light distance of 23 feet, and runtime of 200 hours. For emergency situations, you can use the SOS mode that can run up to 265 hours. If you need light for night vision, you can use two options of red mode: "high" with 312hours runtime and "flashing" that lasts up to 528 hours. In terms of charging, you don't need to worry because it uses a high-quality 6000mAh lithium-ion battery. It doesn't easily drain and can store charge for over 9 months even if you don't use the lantern. Thus, you can save money from purchasing batteries. For charging, you can use the 2 cables included in the product which can be used in any USB charger and a laptop's USB port. The same USB port can be used to recharge your smartphone and camera if outlet or power source is not available.
5. Lighting EVER Rechargeable Camp Lantern LED


Upgrade your emergency kit and outdoor gear with the help of Lighting EVER Rechargeable Camp Lantern LED. This equipment has a 3-in-1 design, where there are two small detachable flashlights. Each of these flashlights has a light on the front and the side. The front acts as a standard flashlight while the side can be used as a nightlight. Thus, when you take these detachable flashlights from the main lantern, you will have three available sources of light. For the power source, the lantern uses an 1800mAh built-in rechargeable battery that can be recharged using the USB cable and the car charger included in the package. If you want to make sure that your lantern won't run out of power supply, you can purchase separate 3 D-size batteries. It will only take 4 to 5 hours to fully charge it. Note that you will need 3 AAA batteries for each flashlight if you are going to detach these from the lantern. Don't worry because the product includes 6 AAA batteries, which you can use in the detachable flashlights.However, if you are going to use it while attached in the lantern, then it won't require another set of batteries. For the light, it uses LED with an overall brightness of 600 lumens while the detachable flashlight has abrightness of 200 lumens. To provide enough brightness, there is a 360 degrees beam angle. Other features of this lantern include a small compass which is located on the top, IPX4 water-resistance, and durable metal hooks with anti-skid rubber. These additional features make it more suitable for outdoor activities like camping and fishing.
6. PTP Direct Solar Lantern

Make your outdoor activities more enjoyable, be prepared during emergencies, and easily do your work when you use PTP DirectSolar Lantern. Its best feature is the 6 charging option of this lantern. You can use its built-in solar panel, the hand crank, USB cable, car adapter, and the traditional power plug. The package includes all the necessary charging equipment, such as a European household power supply plug wire, a car charger, and a USB cable. If you are going to charge using the solar panel, it will take 5 to 6 hours for the lantern to be fully charged. On the other hand, using the AC charger will only take 2 hours. Aside from USB charging, the lantern can also charge your smartphone, tablet, and other devices with the help of micro-USB. However, note that it doesn't support charging of iPhones. The lantern uses a rechargeable 1200 mAh battery that can last up to 12 hours if it is fully charged. It has 2 brightness settings: high and low. If you need to illuminate a large area, you should use the high setting which uses 36 super bright LED lights. In case you only need to light a small area or don't like exposing your eyes in too much brightness, you can simply use the low setting and the lantern will only be half-lit with 18 LEDs. Its other specifications are net weight of 1.96 lbs; thesolar panel is 0.6W; it is made of materials of painted ABS plastic, PC cover, matte texture, and rubber exterior; it has alightweightdesign; and it equipped with a portable handle so you can hang it.
7. Zippo Rugged Lantern

If you need a lantern that can keep up with your extreme outdoor activities, the Zippo Rugged Lantern is the perfect product for you. It is designed with rubber corners that will protect it from accidental drops and everyday use, especially in outdoor activities; arugged metal cage that maintains and guards its internal components; and a detachable handle so you can hang the lantern wherever you want like branches or tent poles. In addition to the design, it has anIPX7 waterproof rating and it can float in water and stay lit. Based on several tests, the lantern can surviveall night out in the rain and a drop of up to 5 feet due to its rubber corners and stainless steel tubes. Thus, it is drop-proof, plunge-proof, and still works while staying afloat in the water.For the light bulbs, it uses a single LED that has amaximum output of 220 lumens. The light produces by the lantern is soft due to the soft glow diffuser in its extra-long light tube. It has 4 power settings: low, medium, high, and an emergency SOS blinking mode. It uses a rechargeable lithium-ion battery that can last up to 40 hours. You can make the battery last longer by changing the power setting from 100% brightness in high mode to 10% in low mode. The high setting has LED output of 220 lumens and can last up to 12 hours. In the medium setting, it can last up to 18 hours. Lastly, you can continuously use the lantern for up to 59 hours on the low setting. You can recharge the battery using the 120V AC wall charger included in the package.
8. Dorcy International 41-1081 Rechargeable Power Bank Lantern


Replace dangerous light sources like candles and gas-powered lanterns with Dorcy International 41-1081 Rechargeable Power Bank Lantern. This lantern is different from other products because it has additional light sources. It has 3 lighting options: spotlight, area light, and flasher. Apart from the main light, there are two functional lights on each side. One side has a bright area lantern while the other one is an emergency flasher. All of these lights use LED light bulbs that uses 4000 mAh batteries. The heavy duty spotlight in high setting has an output of 700 lumens that can reach a beam distance of more than ¼ of a mile and can last up to 3 hours. Thus, it can surely light up the area where it is placed. The spotlight also has a low setting with 270 lumens output and 8 hours runtime. The bright area lantern uses an output of 100 lumens of light, while the emergency flasher can run up to 48 hour using its 20 LED lights. The lantern uses a lithium-ion battery as a power source and can be recharged using its USB port. Moreover, the lantern can be a power source itself using the USB output to charge devices like smartphones, tablets, and cameras. Thus, it isa handy gear, especially if you are going to use it in outdoor activities like fishing or camping. If you want to know how much power is left on the lantern, you can view the back or tail where you can see the accurate readings. The remaining power is displayed using 4 LED lights. Moreover, you will be able to see two buttons that are used to individually operate the additional lights on both sides.
9. Fenix CL25R LED Camping Light

Own a gear that can be used as a light and a power source at the same time like Fenix CL25R LED Camping Light. When you purchase this product, you will get additional accessories like 1 Fenix 2300 mAh battery, LumenTac USB wall charger adapter, LumenTac USB car charger adapter, a micro-USB cable, O-ring for water seal, a user manual, and a warranty card. Aside from the battery, you can easily charge this lantern via the USB cable and adapters which can be used in your computer's USB port, wall socket, or inside your car. Its micro-USB charging function has special features: a protective built-in circuit against overcharging, over-discharging, overheating, and improper battery installation. Plus, the lantern can be turned on while charging and use at mid, low or moonlight, and red light modes. There is a light indicator for the lantern while it is charging: green = battery is fully charged; andred = battery is charging. You have 6 lighting options: 4 white light options and 2 red light options. The white light includes turbo, high, mid, and low or moonlight. The runtime will vary depending on the power source. It is best to use Fenix rechargeable battery because the turbo mode can last longer. The turbo mode has an output of 350 lumens and runtime of 2 hours 15 minutes. The high mode has 200 lumens output that can last up to 5 hours. In mid mode, you can use it up to 23 hours 45 minutes with 50 lumens. If you want a dim light source, you can use the low or moonlight mode that has only 0.8 lumens and can last up to 600 hours. For the night light, you can use the red light for 44 hours straight and it won't attract mosquitoes. In thecase of emergency, use the flashing red light as a signal or warning for others. For its usage, you can easily attach this with the help of various mounting methods: using ahanging loop; can be mounted on a tripod; andhas amagnetic base.
10. Maysun Solar LED Lantern

While fishing, camping, or hiking, you should use an environmental-friendly gear like MaysunSolar LED Lantern. It is equipped with super bright LED light, 2 solar panels, USB port, and a compass. The light has a maximum output of 320 lumens, which can be easily adjusted using the on/off dimmable switch. The USB port and solar panels are the two ways of charging the lantern. Under the bright sunlight, it needs to charge for 6 to 8 hours. While the use of AC adapters only needs 2 to 3 hours charging. The status of the battery is indicated using 3 colors: red = charging status; green = fully charged; and blue = the battery has less than 10% power. No need to worry about overcharging and over-discharging because it has ahighsafety factor. If you are going to use this for outdoor activities, you can easily carry it using the hanging handle and turn it on due to its fluorescent button.