Top 10 Best Automotive Floor Jacks of 2023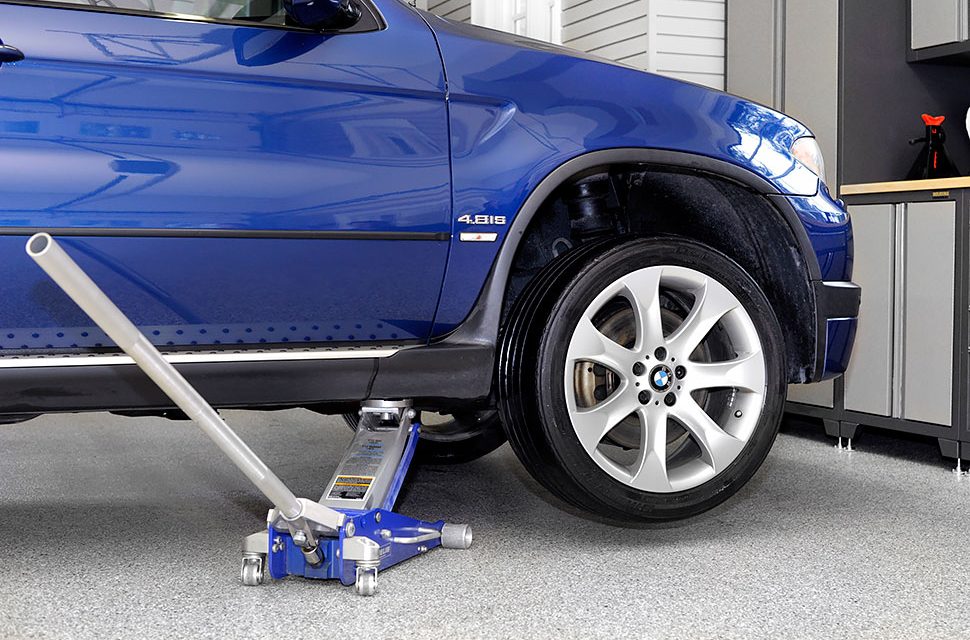 A jack is a mechanical device that is used for lifting a heavy load or applying great forces. Generally, this equipment is rated based on its maximum lifting capacity. There are different kinds of jacks:
Floor jacks – often referred to as hydraulic, garage, trolley, or service jack. This is best suited to a garage or workshop due to its large weight and size.
Scissors jacks – also known as jackscrew due to the way it works. It is the common type of jack that comes with your car. This is lightweight and reasonably small that makes them easy to store and use by car owners.
Bolt jacks – also called as whiskey jack because of its physical resemblance with an old fashioned whiskey jug or bottle. It has a single lift rod that acts a piston – simply pump the arm of the jack and the piston will rise.
Hi-Lift jacks – also known as farm jacks because these are an invaluable tool for farmers and can be used for several tasks. These are extremely versatile in lifting, levering, pulling, or winching.
Motorcycle jacks – used for lifting a motorcycle to enable cleaning, modifications, or repairs.
Below is our list of top 10 best automotive floor jacks that you can use in your garage.
10. Blackhawk B6350 Fast Lift Service Jack

Get a long-lasting professional service with Blackhawk B6350 Fast Lift Service Jack. This 3 ½ ton or 7,000 lbs. capacity service jack has a unique design of fast list technology so you can quickly lift to the jacking point without any load. Other features include: swivel saddle so you can easily position the jack; bypass device that prevents damage from over pumping; built-in internal safety valve and vent plug to ensure safe operation; and it is made of heavy-duty steel so it has long term durability.
9. Black Bull EJ212 Fully Automatic Electric Car Jack

Don't get stuck on the side of the road due to a flat tire with the help of Black Bull EJ212 Fully Automatic Electric Car Jack. It only weighs 11 pounds but has a capacity of 2,000 pounds or 1 ton. This lightweight jack is powered by your car's cigarette lighter. If you need air to your tires, just plug it into the cigarette lighter outlet and turn the power on. It can lift most four-door and two-door cars, sedan, or coups with standard wheels from 5 to 14 inches.
8. OTC 1532 Aluminum Racing Jack

Perfect for ground hugging, high-performance cars is the OTC 1532 Aluminum Racing Jack. It is only 3 ½ inches and weighs only 43 pounds but can lift up to 2 tons. This jack is made of aircraft-grade aluminum. It is designed with dual pump pistons that can reach a maximum height of 18 inches with only 5 pumps, side-mounted handles for quick and easy carrying, removable rubber saddle pad that protects the vehicle and prevents slipping, and two-piece 45-inch long handle that snaps together for quick and easy setup.
7. Pro-Lift F-767 Grey Low Profile Floor Jack

Be able to reach areas that you haven't accessed before in your car using Pro-Lift F-767 Grey Low Profile Floor Jack. This jack gives you better access to low ground clearance vehicle with a capacity of 2 tons and lifting range from 3 ½ inches to 14 inches. It has an extra low profile and can fit under a clearance of 3 ½ inches and maneuver easily into position. It also has key features of unique patented bypass device that protect against over pumping, built-in safety valve that provides overload protection, and heavy-duty steel construction that provides long-lasting durability.
6. Powerbuilt 640912 All-In-One Bottle Jack with Jack Stand

The Powerbuilt 640912 All-In-One Bottle Jack with Jack Stand will help you in any kind of heavy lifting in your garage or shop. This jack has a 6,000-pound capacity, which is perfect for SUVs, off-road vehicles, and construction jobs. It is designed with patented combination of a jack stand and bottle jack in one unit, height range of 11 inches to 21 inches, safety bar locks unit at desired height, and wide steel base for stability under load.
5. Arcan XL20 Low Profile Steel Service Jack

Professionals and weekend warriors can take on any job using Arcan XL20 Low Profile Steel Service Jack. This sleek, low profile, durable, and long-lasting jack has a capacity of up to 2 tons and complies with the ASME PALD 2009 standard. It has a compact design, dual pump for rapid lifting, universal joint release mechanism that provides precise control, and safety valve that prevent overloading.
4. Torin T10152 Scissor Jack

For extra lifting, moving your entire load, and other lifting needs, you can use Torin T10152 Scissor Jack. Its minimum height is 3.75 inches and has a maximum height of 15.4 inches with a maximum capacity rating of 3,000 lbs. It has large base and saddle that helps provide stability while maintaining a small size for easy storage. This product is 100% factory tested for reliability and safety.
3. Hi-Lift HL484 Cast and Steel Jack

If you are looking for a rugged, highly versatile jack that puts you in command in situations requiring lifting, pushing, pulling, winching, and clamping then you should choose the Hi-Lift HL484 Cast and Steel Jack. It is constructed with a mix of cast components and four high-strength stamped steel components. This is designed with top winch connector clamp, powder coated finish with zinc-plated hardware, two-piece handle and socket, and shear bolt that prevents the jack from being used on loads greater than 7,000 pounds.

2. Husky HB4500 Brute Power Jack

Lift your car and other heavy objects with the help of Husky HB4500 Brute Power Jack. It has a brute strength with a 4,500-pound rating, 12-volt operation, hardened steel gears, and soldered connections. Its key features include built-in weather-resistant trailer connector storage bracket with durable hammer gray finish, 3-sided LED light system, weather-protected switches, a friction-reducing ball screw, and 18-inch full stroke with 6-inch adjustable drop-down leg that reduces time to set the jack and reduce the wear on the motor.

1. Powerzone 380044 Aluminum and Steel Garage Jack

The Powerzone 380044 Aluminum and Steel Garage Jack has a rated capacity of 3 tons with a lift range of 4 inches to 18 ¼ inches. It is made with the lightweight aluminum frame to reduce product weight and increase portability. This jack is equipped with heavy-duty steel lift arm for strength and durability, quick lifting hydraulic system, safety valve to prevent overloading beyond rated capacity, rubber padded saddle that protects vehicle frame, and rear wheels swivel for easy positioning.