Top 10 Best Battery Operated Fans of 2023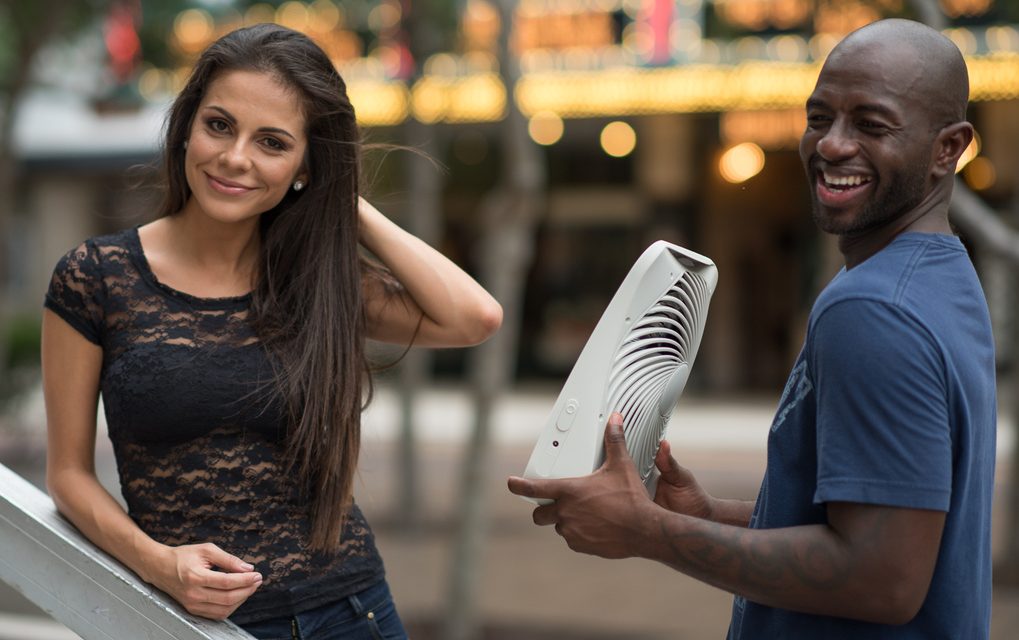 Summer is the best time to go on a long road trip, soak in the sun, and stay on the beach. However, with the problem of global warming, we experience very high temperatures.
We maintain our internal temperature around 37°C, which usually varies with less than 1°C due to physical activities or emotional state. If the change in your body temperature is more than 1°C, it can be due to illness or when the environmental conditions are more than the body's ability to cope with. To maintain our inner body temperature, our heart pumps more blood to the skin and by increasing sweat production.  However, if your body wasn't able to maintain the right temperature, you may experience nausea, fainting, or even heat stroke. To help you keep cool and fresh during summer, here is our list of top 10 best battery operated fans.
10. TFSeven Mini Portable Handheld Fan

During summer days and holidays, you should always bring TFSeven Mini Portable Handheld Fan. This fan leaf is made of soft sponge so it wouldn't hurt your hands. It has a small, lightweight, and compact design so it is easy to use. You can use AA rechargeable batteries to operate this handheld mini fan. Remember: don't use this product near fire, power source, your face, or necklace.
9. ETONG Portable USB 6-inch Desktop Fan

Keep your home and office cool during the summer season with the help of ETONG Portable USB 6-inch Desktop Fan. You can place it on your table, hang on the wall, or slung as a ceiling fan. It is convenient to use because it has dual power sources: plug-in with the USB cable to connect to your computer, AC adapter, and power bank or use 6 AA batteries. Its features include 2-speed choices with side control switch; it can be used as a personal fan or laptop cooler; it is made by DC brushless technique; quiet and low power consumption; and adjustable angle.
8. Welltop Mini Fan

If you are going to camp, run on the treadmill, going on a road trip, or simply going to sit and relax when the temperature is high, you can use Welltop Mini Fan. It has a long adjustable tail that is designed for easily fixing onto any object or standing it on a surface. It has soft blades made from TPE materials and won't hurt your fingers even when it is working so it's safe to use. Its power source is the built-in rechargeable 700mA battery, which takes 2 hours to charge, and can be used for 3 hours when fully charged. Due to its mini size, you can take this fan anytime and anywhere to breathe fresh air.
7. Cool On The Go Rechargeable Fan

Have a continuous source of steady airflow with Cool On The Go Rechargeable Fan. It will keep you cool and refreshed with its revolutionary personal cooling system, which pumps out air. You can use this lightweight fan for over 5 hours on high mode and over 8 hours on low mode. Its power source can be 4 AA 2500mAh NI-MH high-performance rechargeable batteries or the USB power cable. This product also includes a 7.5V AC power wall charger for the batteries.
6. BLUBOON Rechargeable Desk Fan

Stay cool and fresh while doing your work inside your office using BLUBOON Rechargeable Desk Fan. You can turn down or turn up its air volume using the switch on the back. The fan is able to do a 360 degrees swivel and angle up or down; whichever angle you want it. Moreover, it has features of portability, green energy, environmental friendly, low power consumption, and strong wind power. It runs using a battery or by the USB connector that you can power from your computer or power bank.
5. Bluestar Couples Mini Fan Dual Head

In the hot summer season, you will no longer have to steal a fan from your siblings or workmates because of Bluestar Couples Mini Fan Dual Head. With its dual head and 360 degrees rotation, more people can enjoy the cool wind from this fan at the same time. In addition, it has gorgeous blue light when the fan is working, which is a good decorative effect or be a source of light during nighttime. This fan is powered by a standard lithium battery and can be charged using a 3.2 feet USB cable.
4. Topwell® Hand Fan

Blow smokes and smells away inside your home or keep cool and refreshed while traveling with the help of Topwell® Hand Fan. It has 3 modes, which efficient power and conversion circuitry can minimize the loss to save energy and protect the environment. This handheld mini fan uses 18650 international standard high-capacity battery that provides long life and strong power output. It has advanced power management technology that provides a variety of power supply: directly use USB or use the battery.
3. Topwell Mini Square Rechargeable Clip Base Fan

Wherever you go during summer, you can easily bring the Topwell Mini Square Rechargeable Clip Base Fan. It can be a simple desk fan or a clip fan using its clip base. It has dual power source: battery or using the USB cable and connect to your computer or power bank. It has 3 adjustable modes of high, middle, and low. This fan is also equipped with LED flashlight that can be turned on and off using the switch located on the side, which should be pressed for 3 seconds to activate.

2. OPOLAR F201 Portable Rechargeable Fan

Get a strong, steady stream of cool air directed to you with the OPOLAR F201 Portable Rechargeable Fan. It is small, exquisite, and can easily fit inside the bag. This fan is perfect for outdoor activities and travel. It has 3 adjustable speeds of low, medium, and high with up to 4.2m/s maximum airflow. This is powered by a rechargeable battery or by being connected with a USB cable. The battery works from 2 to 6 hours if it is fully charged.

1. SkyGenius Battery Operated Clip on Fan

In hot days, a fashionable, powerful, portable, battery operated clip fan is in demand like the SkyGenius Battery Operated Clip on Fan. With its clip style, this fan can be put or be clipped anywhere you want or bring wherever you go. It is designed with compact size; it is lightweight; 360 degrees vertical and horizontal rotation; and has a dual power source. You can use an 18650 battery for 3 to 6 hours or the USB cable and charge the fan to your computer, power bank, or USB charger.