Top 10 Best Baby Swings of 2023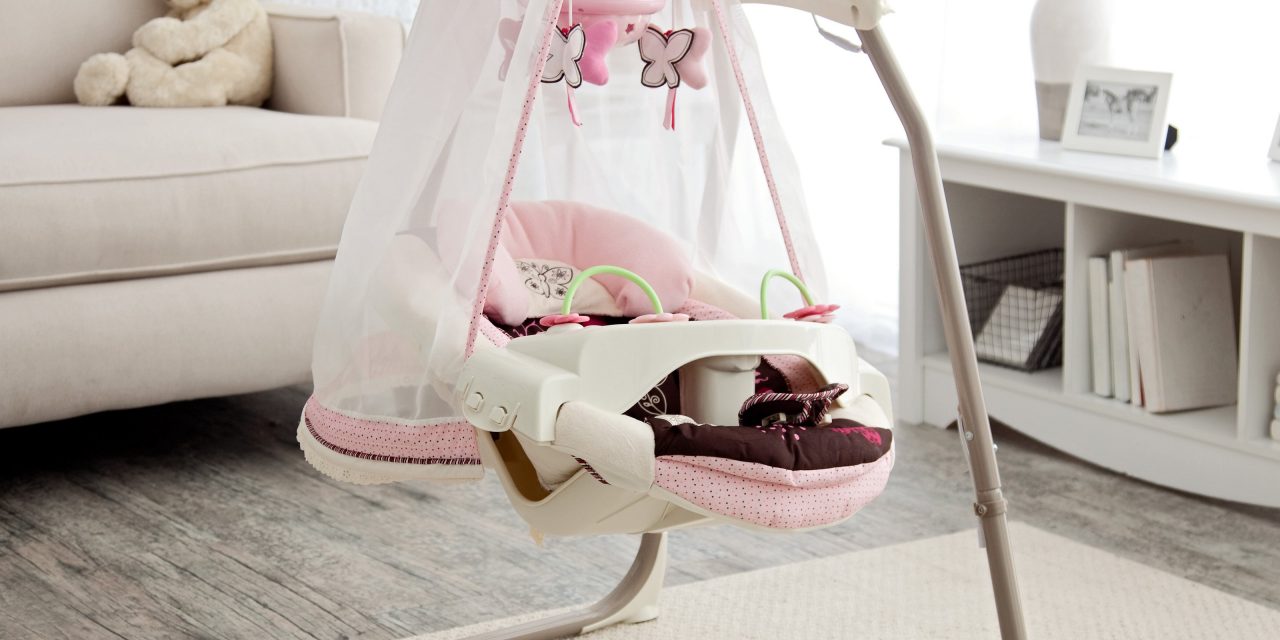 Parents of new babies love spending time with their babies. From feeding time to snuggling, time spent with a new baby is time well spent. However, new parents also deserve a break, even if it's just to catch up on household chores.
Every baby gets grumpy and irritated now and then. Cradling your grumpy baby in your arms and swinging him back and forth is a great way to soothe the savage beast. A baby swing is an amazing way to provide this motion without the need to use your arms.
Baby swings are a popular piece of baby equipment that many new parents get as a gift or for themselves. There are a lot of different models, styles and sizes on the market which can make deciding on one a bit of a challenge. With the right information on features and specifications, choosing one can be much easier and even exciting.
10. Fisher-Price Infant-to-Toddler Rocker

It starts out as an infant seat or rocker with bat-at entertainment overhead. Then, as your child grows, you can easily remove the toy bar and convert it to a toddler rocker, for children up to 40 lbs.
Use from infant to toddler (up to 40 lbs./18 kg)
Convenient feeding, playing or resting space for baby
Switch on calming vibrations to help soothe & comfort
Stationary seat position with kick stand
Removable toy bar with two bat-at toys
9. Ingenuity InLighten Cradling Swing, Seneca

The Ingenuity InLighten Cradling Swing in Seneca fashion is full of remarkable and intuitive features that both baby and parents will enjoy. Connect your smart phone or device to personalize baby's entertainment. The LightBeams electronic mobile spins and glows to lull baby into relaxation. This innovative swing rotates 180˚ for 3 swing directions so that mom can see baby at any angle. Choose from 6 speeds, 8 melodies, and 3 nature sounds. There are 2 recline positions to choose from, plus a deluxe oversized seat with removable head support so that baby will fit just right in the swing. The SlimFold design allows you to fold and move with ease. Swing timer has 3 automatic settings: 30, 45 and 60 minutes. 5-point harness for safety and a machine-washable seat pad and head support pillow.
8. Graco DuetSoothe Swing and Rocker, Winslet

The Graco DuetSoothe Swing and Rocker is an ingenious baby swing that doubles as a rocker, giving you the flexibility to move baby around the house. In swing mode, the swing seat offers three positions so you can sway baby back and forth or side to side. With added features, such as a plug-in option, vibration and music, this baby swing has it all. Winslet is an intricate pattern, bursting with personality, so it's the perfect gender-neutral pattern for your little one.
7. Bright Starts Itsy Bitsy Jungle Portable Swing

Bright Starts Itsy Bitsy Jungle Portable Swing offers all the features of a full-size swing in an efficient, portable size. TrueSpeed Technology maintains a consistent speed, even as baby grows. Baby will enjoy six original melodies with volume control and auto shut-off. The toy bar features two adorable playtime toys and removes easily so you can access baby conveniently. The seat reclines to two positions to keep baby comfortable. There is a five-point harness, non-slip feet and it folds easily for convenient transport and storage.
6. Graco Glider Lite LX Gliding Swing, Zuba

Graco's Glider Lite is a unique, portable gliding swing that soothes with the same gentle motion you use when cuddling and comforting baby in your nursery glider. This innovative gliding swing is lightweight, making it easy to use anywhere in the house. A plush, roomy seat with removable infant head support will keep baby cozy, while six gliding speeds, ten classical melodies and five nature sounds will keep baby entertained.
5. Ingenuity Moonlight Rocking Sleeper – Lullaby Lamb

Your little one will love to be lulled to sleep with the Ingenuity Moonlight Rocking Sleeper in Lullaby Lamb. Baby will be fascinated with the Soothing Star Shine projection that displays a soft starry light show. This innovative sleeper also features a mobile with 2 plush toys, a removable vibe unit for soothing vibrations and 5 melodies and 3 nature sounds.
4. Graco Comfy Cove LX Swing, Rory

Graco Comfy Cove LX is a comfortable infant swing with a deep, cozy seat to cradle your little one. With six swing speeds, a three-position reclining seat and 15 songs and sounds, this swing makes it easy for you to find the soothing combination best for baby.
3. Fisher-Price My Little Snugabear Cradle 'n Swing

Deluxe baby swing features and fabrics make Fisher-Price Snugabear Cradle 'n Swing soft and soothing with two different swinging motions and a variety of other customizable features that let you choose and combine what baby likes best. SmartSwing Technology offers six different baby swing speeds from low to high. Snugabear cradle swing actually senses baby's weight, so speeds won't slow as baby grows, and it starts without a push. The motorized mobile helps soothe baby, too, with 16 songs, nature sounds and three adorable owl friends that "fly" overhead to encourage eye-tracking and keep baby entertained. The deep, cozy seat with machine-washable padded seat cover has a linkable rattle toy, and a machine-washable body insert and head support for newborns, infants and smaller babies.

2. Fisher Price Cradle 'n Swing – Rainforest

Comforting sights and sounds of the rainforest: with two different swinging motions and a variety of other customizable features that let you choose and combine what baby likes best. Smart Swing Technology offers 6 distinct swinging speeds from low to high so you can find the perfect rhythm to soothe baby whether she's swinging side-to-side or swinging head-to-toe. It actually senses baby's weight and it starts without a push.

1. Fisher-Price Rainforest Jumperoo

Let your child bounce and sway in the Fisher-Price Rainforest Jumperoo, which provides a safe place to play in a fun atmosphere. A new frame allows the seat to rotate a full 360 degrees and permits your baby to play with toys around the rainforest. This Fisher-Price jumperoo stimulates visual and auditory senses, as the electronic toy at the front of this infant seat includes motion, music and lights that can all be activated by your baby. Two soft leaves extend from the frame to create an overhead canopy with toys that dangle down to bat at and play with. The frame of this baby jumper toy pivots to a nested position, so it can be tucked away when not in use. There are three height adjustments for extended use.