Top 10 Best GoPro Selfie Sticks of 2023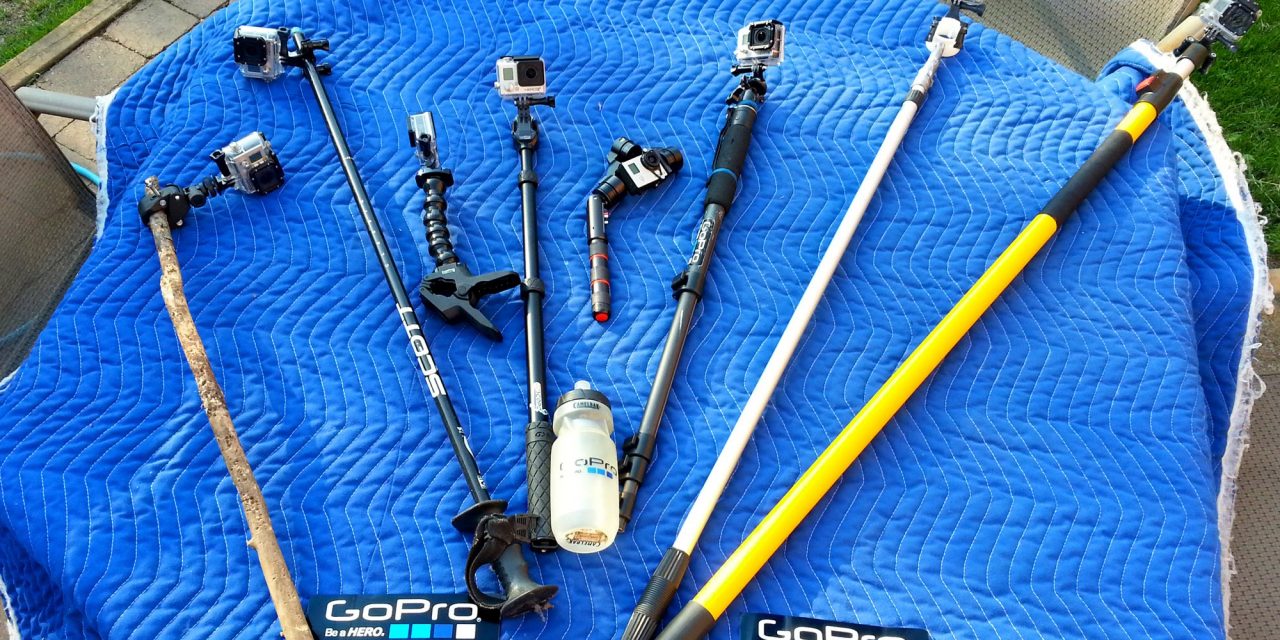 GOPRO is known for its ability to take perfect shots while in action and also known for being compact, waterproof, and shockproof. Also, we have to mention about its wide focal length. Although there are number of benefits of using a GOPRO, it is still a bit difficult to handle it, especially when taking a selfie without a selfie stick.
GOPRO selfie stick has become a necessary accessory for the owners of GOPRO. GOPRO selfie stick is like any other selfie sticks available in the market. Its design and function are very much the same except for the mounting bracket. Anyone looking for a selfie stick for their GOPRO would have come to the above conclusion in ease. But, the real problem would be to find the best among the vast number of GoPro selfie sticks available.
Some of them were specifically designed for GroPro cameras while others are more generic. Each has its own unique purpose, so it is you who have the discretion to choose which selfie stick suits your preference. Here are the top 10 selfie sticks for GoPro of 2016.
10. Meme 3 Way Selfie Handheld Stick Monopod Foldable Mount Holder Stand Support for Gopro Hero Cameras & SJ4000

The name of the product, "Meme" may sound wired, but not the product. The 3-way selfie stick would be a favourite of someone who loves to travel and at the same time,  would also like to keep his luggage light.
The product is quite handy and has a simple convertible design. It can be converted to a selfie stick, a tripod, and also a camera grip. In spite of all the cool features, it is so affordable. The more the affordability, the poorer the quality. But actually, it is not the case here. It is very well made. It has rubber coated handle that improved the grip and it also takes almost no storage space.
9. FloatPro 3-in-1 GoPro Selfie Stick

One of the most interesting features of the FloatPro 3-in-1 GoPro selfie stick is that it works with almost every smartphone and all GoPros. If you are not impressed by it, then you will definitely get fascinated by its durability.
It amazingly works as a telescopic extendable monopod which can be stretched quite long up to 36 inches. An aluminum alloy build and a floatpro strap come with the package. It would be a great choice for divers, or just anyone who like to hang around the water.
8. Smatree SmaPole S1 All-aluminum Alloy Handheld Telescopic Pole

A simple model which works with all Go Pro Hero cameras, the Smartree SmaPole is highly recommended for those who do not want to spend a lot on selfie sticks.
The telescopic design allows quick adjustment from 15.8' to 40.5'. The extension of up to 40 inches offers optimum shooting effect.  Smatree WiFi Remote Controller Housing allows you to conveniently attach your WiFi Remote to SmaPole, so you can easily start or stop shooting while your pole is high up in the air. And since it is made of aluminium, it is light and durable.
7. Wareway Selfie Stick And Tripod For GoPro Hero Cameras

The Wareway selfie stick is the cheapest on our list. In spite of being affordable, the durability is not compromised, in fact, it is quite good. It can also be used as a tripod. Plus, it works with all GoPro hero camera and it also works with most smartphones. It has a non-slip soft foam handle which prevents sliding off and it is very comfortable to grip. The holder can be rotated 180 degree which gives you control over angles of snaps.
6. GoRad Gear Selfie Stick For GoPro Cameras

The manufacturer of GoRad Gear Selfie Stick is providing all the owners a lifetime guarantee. It is one of the most popular selfie sticks for GoPro. It is incredibly made out of the highest quality materials.
It has a twist locking system that allows you to easily adjust the pole from 17 inches to 40 inches. It is very compact which makes it travel-friendly. One of the best points worth mentioning is that it is water resistant and the manufacture as well provides you with a small nylon carry bag as a compliment.
5. Sandmarc Pole – Black Edition For GoPro Hero Cameras

Sandmarc pole selfie stick is specially designed for all GoPro hero cameras. Since it is specially designed for it, then it is probably a good choice for all GoPro owners.
Made from waterproof aluminum materials, rubber grip, and adjustable wrist strap, the Sandmarc pole selfie stickcan withstand extreme conditions. It can be extended from 17 inches to 40 inches. This model also comes with a lifetime warranty, which does not leave us to become worried, since we are guaranteed of its quality and durability.
4. Shineda telescopic handheld monopod pole SD-208 for GoPro Hero Cameras

Another affordable telescopic selfie sticks on our list is the Shineda telescopic handheld monopod pole SD-208. It works with all GoPro camera, which is considered as one of its notable features. Maybe, the manufacturer does not provide any lifetime warranty, but the quality is quite good.
Shineda can be extended up to 36 inches. It also has a twist mechanism. It consists of built-in GoPro adapter which helps your GoPro to be connected directly to the stick. Since it is quite light and compact with a measurement of 11 inches, there is no doubt that it more travel-friendly.
3. The Alaska Life Selfie Stick

The Alaska Life is quite competitive with its peers. Although it is not one of the most prominent and biggest brands of selfie sticks, Alaska Life has managed to become the toughest brand. It also works with most smartphones. It does not need to use Bluetooth like many other products of selfiesticks, which means that it is completely waterproof.
It can be extended up to 36 inches with a simple design which works with all hero cameras. The pricing is quite reasonable for the product. Plus, it is also durable and rugged too.

2. Fugetek Universal Selfie Stick

Being one of the products available in the market which works well with all DSLR cameras, smartphone, and all GoPro hero action camera, the Fugetek universal selfie stick stands out from any other selfie sticks available in the market.
It has the longest stick extension of up to 49 inches featured in our list, which makes the picture hard to be discerned as a selfie. It is made of aluminium that is designed to be appealing too. The Fugetek universal selfie stick has a wireless Bluetooth remote and as well as a simple lock that makes it not difficult to attach the camera.

1. CamKix Telescopic Selfie Stick For GoPro Cameras

Camkix is the most popular model in our list. It works with every GoPro hero camera. It is portable and compact with a measurement of only 14 inches when not extended. But, when retracted, it could be extended for a longer length.
The handle is covered with a soft foam that prevents it from slipping. As a bonus, the selfie stick comes with a shoulder strap. It extends from 14 inches to 40inches.  The product is reasonably durable. No wonder why it is the most popular.

The above list is rated based on the combination of features, pricing, and quality of the product.
It is difficult to pinpoint a particular product to be the best. The buyer's needs are different which makes one product better over the other based on their personal needs and preferences. But any selfie stick in our list is quite useful and reliable.