Top 10 Best DSLR Cameras for Beginners of 2023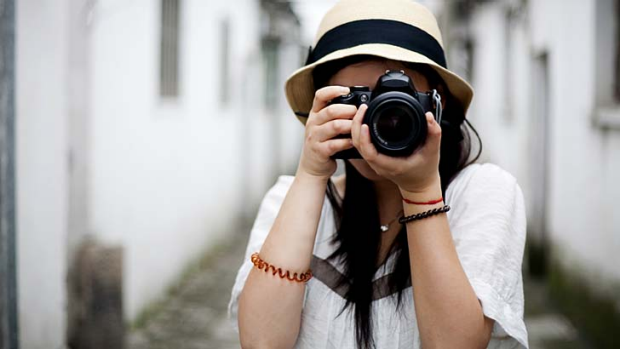 Most people nowadays are fond of taking pictures. I guess you can see that in their Instagram or in their Facebook accounts where they have tons of pictures of themselves with their friends, family and pets, well, most especially their pets. Sometimes when they are not satisfied with the quality of their photo, they would use different kinds of filters. Some would even buy new phones with better camera quality so that they could produce better photos. Well, a phone might be good but a camera is made to take photos, not phones. If you want to have photos which looked like taken by a professional photographer even though you are still a newbie, check here.
10. Olympus Evolt E330 7.5MP Digital SLR Camera

This camera is the first ever DSLR to offer "live" viewing of the pictures or videos through the Color LCD, making them easier to capture. It would not be difficult for beginners to use this since the navigation is just simple to read and to understand. The Olympus Evolt E330 has this swivel capability where you can point the camera to any direction that you desire, whether up, down, left or right. Its LCD Digital Image Stabilization Mode allows pictures to be taken clearly even though the camera might be shaken or the subject(s) is moving.
9. Nikon D80 10.2MP Digital SLR Camera Kit

If you are that type of person who is very particular about the quality of the photo or video, this camera is the right one for you. It has a 10.2-megapixel CCD that would let you capture details for your subject if you go for large photo-quality prints. After capturing your subject, you can view it afterwards with its 2.5-inch LCD display and it only takes 0.2 seconds. The Nikon D80 also has a burst mode which allows you to capture three frames for second, up to 100 pictures. It might be the best camera for those who are just starting photography, because you'll get a good quality photo of any subject that you like.
8. Nikon D5200 24.1 MP CMOS Digital SLR

There are many things that one should consider when buying a camera. Things like the auto focus, shooting speed, shutter speed and what should not. But Nikon D5200 has features which are good for those who take photography as a hobby, even if they are just beginners. Using Nikon D5200, you can shoot pictures at any angle and position that you like, it also has a built-in HDR for very dark and bright areas.
7. Canon EOS 80D Digital SLR Kit

Canon EOS has a lens that can cover a wide area, enabling you to have a vast scene for your picture. It also offers different auto-focuses that can be useful in different kinds of situations. You can use this camera pretty much anywhere, with nature, events, animals and people. If you are a beginner, there will be times when you miss some pretty good shots but Canon EOS has an Intelligent Viewfinder with more or less 100% coverage to provide a clear view and good quality image, to help the photographers to not miss their shot.
6. Pentax K-30 Weather-Sealed 16 MP CMOS Digital SLR

When you are one of those people who take pictures that involves water, this camera is suitable for you. Going to the beach or the pool with friends and family would involve memories that are wanted to be preserved forever but sometimes you would worry if the camera will get wet, which will eventually be the cause of damage. There are also times when you want to take a picture of nature but somehow reluctant since you can't predict the weather. But Pentax K-30 is encased in a compact fully weather sealed body that is ideal to capture pictures and videos in any kind of weather and place. It also produces images with high resolution and rich gradation with approximately 16.3 megapixels. You can also take pictures at a continuous rate at maximum speed with approximately 6 images per second.
5. Sony SLT-A58K Digital SLR Kit

Beginner photographers would usually only focus on the quality of the picture and the video. They don't consider the shooting and shutter speed sometimes, as well as the lenses and other equipment since they don't really know how to use them. But this camera from Sony captures images in the highest quality with 20.1 megapixel APS-C sensor size and Sony's technology where the camera is still able to shoot photos at a high resolution even though the light is low. Pictures are also taken at a fast speed thanks to Sony's image sensor and Phase Detection auto focus.
4. SONY ALPHA 68 DSLT

This camera is used by beginner and professional photographers, as well as those who just like taking photos. It is great for selfies and groupies because its screen can be rotated at 180 degrees to let you see the shots as you capture it. It is also easier to share the pictures that you took since you can connect it to your social network through WiFi and one-touch NFC connectivity. There are also applications that you can download that could enhance your photos without having to bother with editing. Other features include 20.1 MP Exmor HD APS sensor that enables you to get details and enlargements for you photo, it also produces high resolution images in low light. It is also easy to zoom in and out since you can do it in one hand, you can carry this camera with no hassle since it is compact and lightweight.
3. NIKON D7200

You can now take pictures anytime of the day without worrying about the lighting in your photo since the Nikon D7200 can create photos with high resolution from morning until night. It could also capture subjects that are moving like athletes, cars, animals, and people. The quality photos that Nikon D7200 produces are due to its 24.2 MP DX-format CMOS image sensor and with EXPEED 4 image processing and the lenses to enhance the detail and tone of the picture. It is also Nikon's first DSLR which has a built-in WiFi and NFC.

2. Canon EOS Rebel T5 sLR

If you are a photo enthusiast or just a beginner photographer, this camera is suitable for you. It has a powerful 18 megapixel CMOS image sensor and DIGIC 4 image processor to capture photos at a high resolution and videos in HD. It also has a 3-inch LCD screen to view the pictures and videos that you've taken. You can also capture photos with low lighting and the camera also offers modes like Scene Intelligent Auto to help you capture complex photos. It is also lightweight so can carry it with you anywhere.

1. Nikon D3200

This camera is the best for both beginners and professional photographers, since the camera can take pictures at 24.2 MP, and EXPEED 3 image processing for fast processing of images and also has effects to help you enhance the photos that you have taken. Video recording is at the highest quality at 1080p. it also has NIKKOR 18-55mm VR, 3x zoom lens with an image stabilization. Nikon D3200 also has in-camera tutorials to guide you using the functions of the camera, the perfect one for a beginner.