Top 10 Best Virtual Reality Headsets of 2023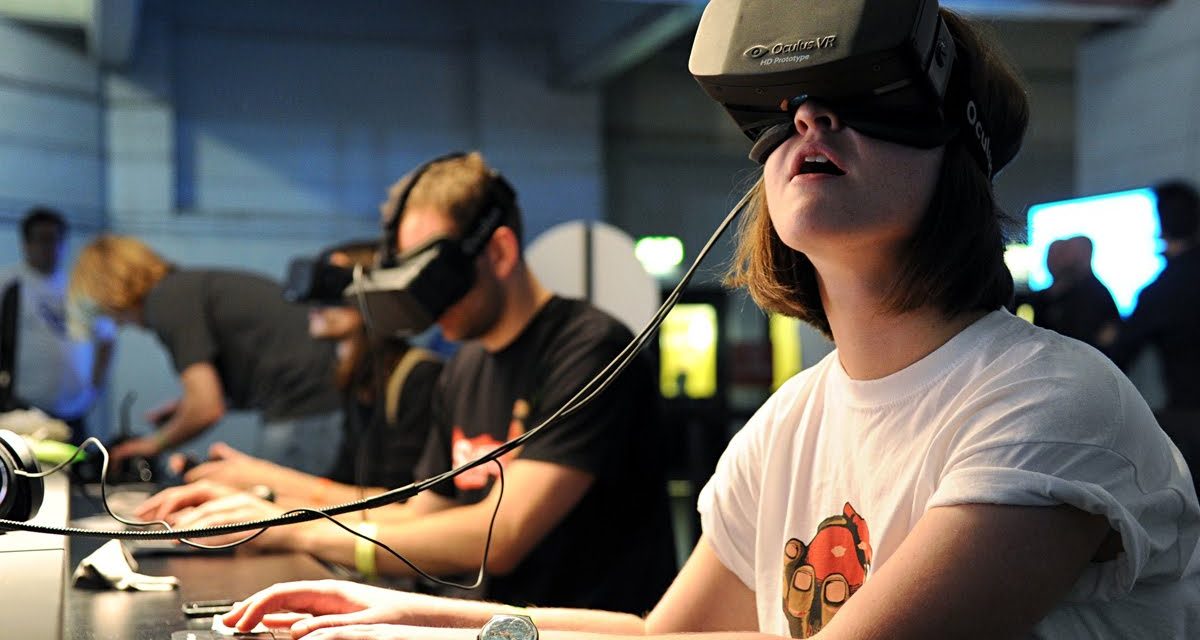 Virtual reality headset is a device aimed to provide an immersive virtual experience in watching videos or playing games. It is a revolutionary technology that aims to change gaming and entertainment industry.
VR headset consists of a stereoscopic head-mounted display and head motion tracking sensors, which may include gyroscopes, accelerometers, and structured light systems. Some devices also include headphones, eye tracking sensors, and gaming controllers.
The first headset was launched during the 1990s but was unsuccessful due to primitive technology. In 2012, Oculus Rift started a new era and initiated the development of several VR headsets in the market.
10. BlitzWolf VR Headset

BlitzWolf VR headset is compatible with phones that are 3.5-6". It gives you a spectacular 3D reality vision with its adjustable pupil and focal distance. You can easily adjust the pupil distance from 55mm to 75mm with the upper knob while the side knob is for the focal distance. Moreover, your eyes will be protected using the 8 layers nano-coating lenses that reduce 90% of phone screen radiation and harmful blue light reflection. Using the soft leather padding, it keeps your skin comfortable even after using it for long hours.
9. Covenov 3D VR Glasses

The best for viewing movies is the Covenov 3D VR glasses. It can fit 4-6" smartphones and has an adjustable clamp on the cover to strongly hold it. Its lenses are the most important part because it uses vacuum ion plating refined that blocks electromagnetic radiation and gives no side effects on vision. Furthermore, it has HD optical resin, 8-layer nano-coating, and 5 times polishing that reduces deformity and glare, and effectively prevents visual fatigue. The headband is flexible making it suitable for different people. Lastly, you don't need to download any software for it to work.
8. Merge VR Goggles

You can turn your smartphone into a VR headset using Merge VR Goggles. Its most notable feature is its soft, flexible, and lightweight foam that can fit anyone's face perfectly; it protects the device from accidental drops, and you can easily clean it by wiping. Plus, it has innovative dual touch inputs that are compatible with VR apps; thus, you don't need a controller.
7. Motoraux® Movie Visor

The lightest VR headset, which only weighs 280g, is Motoraux® Movie Visor. You can put 4-5.9" smartphones and can charge or use an earphone because the front cover is easy to remove. The device is made up of ABS material piano paint technology and imported lens distortion from Japan. You can adjust the images using the Pupil Distance, Focal Distance, and Sight Distance Adjustment buttons. It is flexible to wear using its adjustable straps.
6. Kollea 3D VR Glasses

Kollea 3D VR Glasses can turn any 4.7-6" smartphone into a VR viewer. Using this equipment, you can enjoy live 360 degrees panoramic views or play 3D games. For better viewing, it is equipped with powerful magnet trigger used for adjusting Pupil Distance and Focal Length. You can be assured that it is a high-quality headset with nose padding for comfortable faces touching and adjustable suitable straps so that users can easily wear it.
5. Tepoinn® 3D VR Glasses

Using your smartphone and Tepoinn® 3D VR Glasses, you can have your own private 3D cinema that you can bring anywhere. This 3D VR glasses can give you a better 360 virtual experiences than other 3D viewing glasses. Its features include adjustable pupil and focal distance; adjustable head strap; reinforced foam cushion for a comfortable fit; can fit 3.5-5.5 inches smartphones, and includes charging and earphone ports. The materials used are superb HD optical resin lens with 8 layer nano-coating and 5 times polishing that greatly reduces optical deformity, glare, eye fatigue, and dizziness.
4. Atill 3D VR Headset

This revolutionary tech lets you experience a super 3D picture effect using your smartphone. Atill 3D VR Headset is made up of high-quality ABS and 42mm diameter spherical resin lens material, which minimizes the distortion when magnifying images and providing wider view without experiencing visual fatigue or dizziness. It is also equipped with anti-blue ray glass to protect your eyes. For better viewing experience, it has adjustable pupil and object distance and you can get a viewing angle of between 95 to 100 degrees/FOV. As for its design, the headband is T-shaped with an adjustable strap to provide comfortable feeling and making it suitable for different people. Moreover, it has a side-push way to protect and fix your phones. It is very easy to push in and pull out the device, which brings you much convenience. Lastly, its lightweight design makes it a great companion for travel.
3. Samsung Gear VR Innovator Edition

Samsung and Oculus made a specially designed VR headset for Galaxy S6 and S6 Edge. The package includes a pouch, replacement face foams, lens cleaning cloth, user manual, and warranty information. It lets people experience 3D 350-degree watching videos or playing games. You can download or purchase VR games, experience, videos, and apps, such as Oculus Cinema, Oculus 360 Videos, Oculus 360 Photos, and Oculus Games. The Samsung Milk VR service gives immersive 360 degrees videos, where you can go running with the bulls, snowboarding, or be on stage with your favorite musicians. Note that some gaming apps may require the use of Bluetooth Android game controller.

2. EightOnes VR Kit XL

With several VR headsets in the market, only one stood out among the rest: the EightOnes VR. This kit is made from high quality and durable cardboard unlike with other VR gadgets. It also includes a head strap, NFC, 365 days warranty, NFC, and video instructions. This VR is compatible with iOS and Android smartphones with screen sizes 5.0-5.7 inches. If you have any questions regarding this product, you can rely on their responsive and friendly UK-based support team.

1. Samsung Gear VR – Virtual Reality Headset

On the top of our list is none other than Samsung Gear VR made by Samsung and Oculus. It offers a mobile virtual reality where you can play amazing games, watch Hollywood's best movies in your private cinema, and socialize with your friends. This VR headset is compatible with Samsung Galaxy S7, S7 edge, Galaxy Note5, Galaxy S6 edge+, Galaxy S6, and Galaxy S6 edge. Other features are: easy to use touch pad; wide field of view, precise head-tracking, and low latency to bring reality to the virtual; it is lightweight so you can play and watch more comfortably; the headset is improved fit and includes room for most eyeglasses; and improved padding for extra comfort and durability.