Top 10 Best Bluetooth Floating Speakers of 2023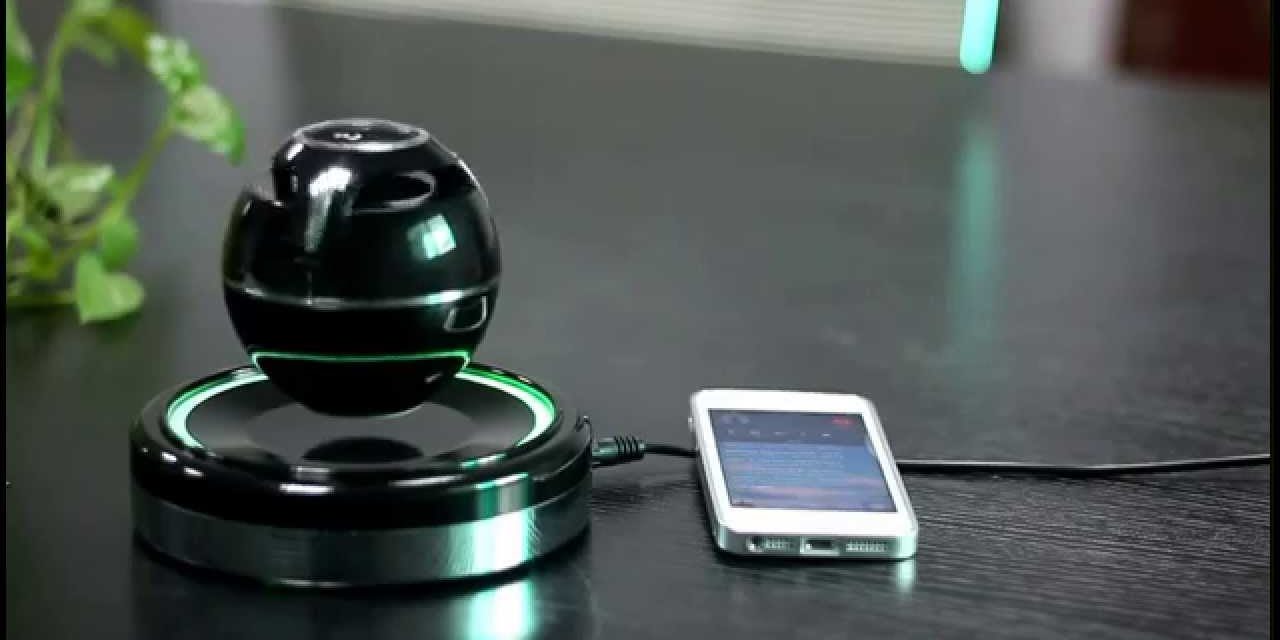 With the technology advancing, it might not be an exaggeration to say that gadgets have become smarter than man. When Phones shed their wires, evolved smartphones and so have smart wireless speakers.  From the tiny sounding boxes just outdoing your phone's inbuilt speaker to the huge trembling monsters, Bluetooth speakers have evolved tremendously.
One of the latest gadgets that we oftentimes use today are Bluetooth speakers. The same technology is being used to supply power to the speaker, but there is something peculiar about them that makes them even more fascinating. Using magnets and charging technology, most of the speakers are made to be floating over the dock. It seemed like a bizarre combination, but the results are quite exciting. Even if floating Bluetooth speakers are quite costly, they are still selling well and they have become a new thing. Currently, the number of items that are available are just limited, since most of the manufacturers have not yet created their own model.
Here are the top 10 best Bluetooth Floating Speakers in 2016.
10. SainSonic SS-01 Portable Wireless Bluetooth Floating Speaker

The SainSonic provides outstanding innovations and introducing features which make their products stand out. One such device is the SS- 01 Portable Bluetooth Floating Speaker.
The reason why it is one of the best sellers is because of its orb shaped design that floats on a magnetic base with a ground clearance of about 10 mm. It is built with the latest Bluetooth technology, and it is as well created with NFC function, which is very common in every tablet or smartphone.
Another special feature is the cone of the speaker which is used to control the 3D effect of the music while the orb rotates. The spherical speaker is fairly loud catching signals up to 10 meters of distance. Packed with quality and features, one should definitely check this one out.
9. Wasserstein Levitating Bluetooth Speaker

Most of the Bluetooth speakers come in cylindrical shapes, making them monotonous and boring.  Wasserstein Levitating Speakers give a futuristic look to the device with its shiny new blue black combination that makes it look nothing less impressive than a Sci-FI movie. Sounds like being the major criteria for speakers, you may be thrilled to know that the speaker does not touch the ground or does not even vibrate, thus making the sound even louder and clearer.
It gives a decent battery life of 5-7 hours, depending upon its use and it also has a wireless calling facility made available while playing music. The product is priced below $100 which is a fairly good deal for a great device.
8. OM/ONE – World's first Levitating Bluetooth Speaker

OM Audio claims that they are the first company levitating Bluetooth speaker. While this may not be easy to verify, this simple spherical speaker with a round base product looks amazingly incredible. It has a good quality finish, which comes in three colors- black, white, and the disco ball.
It is installed with a built-in battery that is sufficient for at least 12 hours of playback, thus, the speaker could be used even without the base. The speaker is Bluetooth 4.0 compatible, but it also supports NFC technology.
7. Music Angel Levitating Bluetooth Speaker

The Music Angel Levitating Bluetooth Speaker is obviously quite attractive, having a rotating base that calls for some additional advantages. The speaker has a built in mic which can be used for answering phone calls too. This would be an ideal speaker for small functions and is fairly loud for those. This has touch sensitive controls which make it easier to operate while the speaker is levitating.
6. ICEORB Floating Bluetooth Speaker

ICEORB floating Bluetooth speaker is one of the finest models. Not only does it play music without any distortions, but it is wonderfully designed to look attractive. The beautiful orb is not only floating, but it also has an illuminated red band around making it look more creative. It has a dynamic stabilization mechanism and as well as indicators that could show you the exact point of installation. Additionally, the base has a USB charging port giving added advantage to the users.
5. HONTECH® Portable Wireless Bluetooth

The cone designed HONTECH Portable Wireless Bluetooth kit is one of the most progressed devices that is available on the market having a 3D surround sound effect. It is just one of the few that has gesture sensors allowing the user to manage it without even touching the device. Built with EML technology, this device can be used for a longer time, plus, this can also be connected to any Bluetooth capable device. Since it has many extra features, this is more expensive. Yet, the volume that it could provide and the quality that it could offer most probably justify the price.
4. SRiver Portable Floating Speaker

SRiver portable floating speaker is a perfect gadget with a fashionable base that appears like a tiny chess board and a big black spherical speaker. This gadget allows us to experience multiple functions including hands-free calls, especially when pair it with our Androids and iPhones or simply media playback. The speaker comes with 3D surround, making it louder that we ever think. Of course, it can also be connected to an audio source through a regular jack cable. Plus, it gives a decent battery life.
3. Air 2 CSBT-311-BLK Wireless Floating Sound 4.0 Bluetooth HD Speaker

Having won the 2015 Best Innovation award, the Air 2 CSBT is not the most affordable model in our list but is worth its price for the features it provides. Like all the speakers, it also has a built-in microphone for a hands free calling function, which means that it to be paired with smartphones. The speaker contains a built-in battery that provides continuous playback for up to 12 hours. This portable Bluetooth speaker can be utilized daily and can be connected to any Bluetooth capable device.

2. Crazybaby L143 Mars Levitation Bluetooth Speaker

One of its kind, the Crazybaby L143 Bluetooth Speaker has an elegant shape which floats in the space, catching full range from the subwoofer base to the floating tweeter. It has a high quality speakerphone and excellent sound adjustment system for a true stereo experience, which undoubtedly makes it as the world's only auto levitating speaker with subwoofer. The speaker encourages 360 degrees sound rotation, which can be paired with any Bluetooth devices, including tablets, smartphones and laptops.

1. SainSonic X-02 Wireless Bluetooth Levitation Floating Subwoofer Suspension

This beautiful piece of device has elegant seven colored LED lights that make it even more attractive. It is made to ensure 3D sound, while the speaker is rotating over 360 degrees. The only care that needs to be taken is that the base should be laid on a flat and horizontal surface for it to levitate properly. The speaker has a built in rechargeable battery and also has a range of as good as 10 meters.