Top 10 Best Dog Shampoo of 2023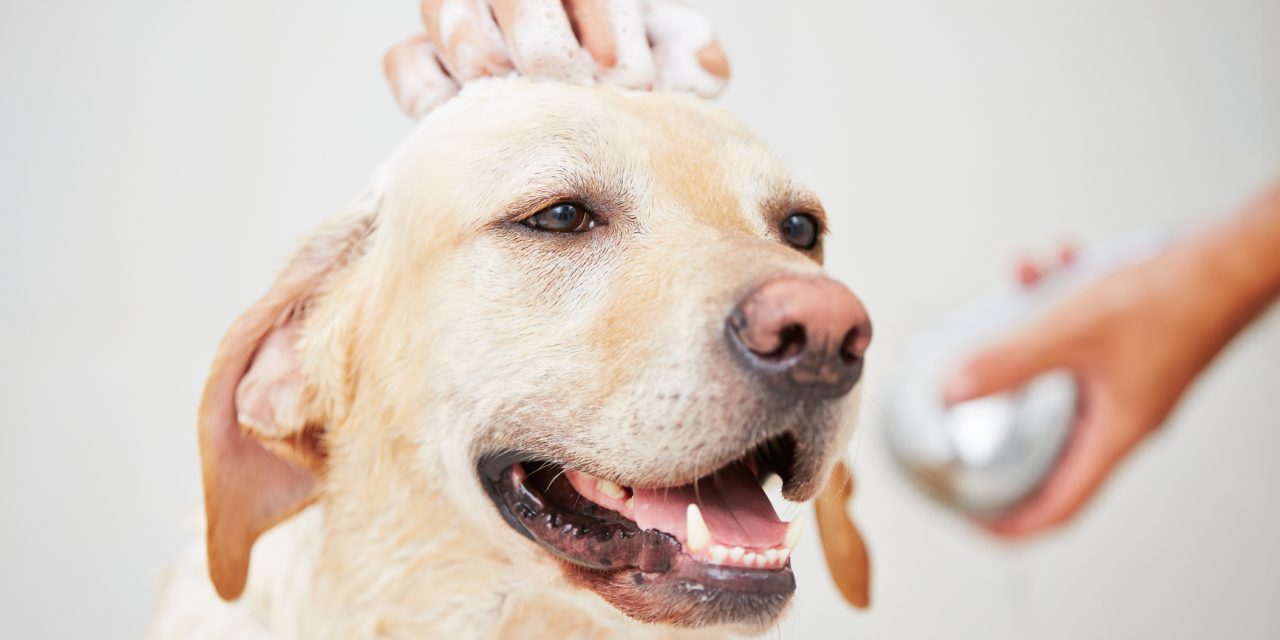 Not all dogs enjoy bath time. Some of them even escape and run around the house just to delay this important routine. On the other hand, owners can't let them get away with bathing and stay dirty, especially if they have a foul smell and dirt all over their bodies.
Bathing schedule depends on the condition of your dog's coat and skin. Dogs who spend most of their time indoors won't need much bathing while active dogs will need to be bathed more often. Plus, some dog's coat accumulate grease and oil more quickly than others.
Below is the list of top 10 best dog shampoos that are definitely will be approved by your dogs. All of these have all natural ingredients and will not harm them. Thus, it will make bath time more fun and enjoyable.
10. Omega Pet Oatmeal Dog Shampoo

For dogs that have itchy skin, you should try Omega Pet Oatmeal dog shampoo. It has a patented-protected formula made up of all natural ingredients including oat extracts that nurtures to restore softness and manageability of the fur; shea butter infuses hair with added softness and moisture; aloe vera for moisture and soothing; and other beneficial extracts that moisturizes your pet's skin and restore their natural oils and smooth coat. This shampoo quickly reduces itchiness, promotes healing, and moisturizes dry skin that results into softer and shinier coat.
9. Paw Choice Naturals Foaming Mousse Dog Shampoo

There are times when bathing is not possible, but we don't want our dogs to stink. Paw Choice Naturals Foaming Mousse dog shampoo is the answer. You can use it anytime, anywhere because it doesn't require water or rinsing. This is the perfect solution to keep your active dogs fresh, extend the time between baths, and great for pets that don't like bath time. It is suitable for all types of fur and sensitive skin due to its mild, natural coconut derived formula, together with fresh mango and pomegranate scent. There are no harsh chemicals and it is fine to use with topical flea treatments.
8. EQyss Micro-Tek Pet Shampoo

If your dog is suffering from itching and can't stop biting and licking his skin, you should use EQyss Micro-Tek Pet Shampoo. This shampoo contains EQyss' most popular formula that can quickly act and is safe and effective for all pets, especially to dogs. After contact with your dog's skin, it instantly soothes them and helps to prevent scratching, itching, biting, or licking irritated skin and hot spots. Moreover, it helps remove pet odors and cleanses even the dirtiest pets without stripping essential oils from the coat and skin. You can be assured that it won't burn or hurt irritated skin or open wounds because of its balanced pH and floral fragrance.
7. Fresh 'n Clean Scented Dog Shampoo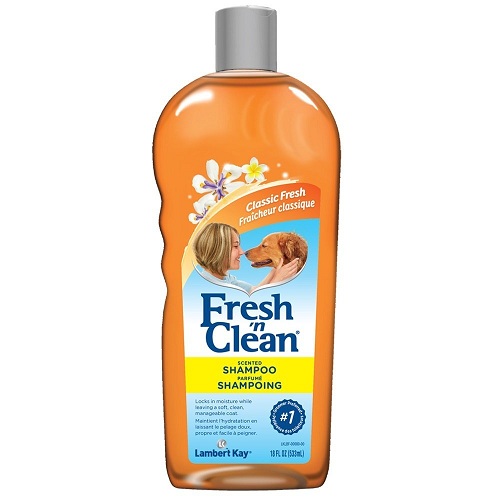 Keeping your dogs smelling fresh and clean all day is very difficult, especially if they are very active. With the help of Lambert Kay's Fresh 'n Clean scented shampoo, it will create a pleasing fragrance that lasts from one grooming session up to one week. You only need to wipe your dog's coat with a moist towel to refresh the long-lasting scent. This shampoo contains sodium laureth sulfate, disodium oleamide mea, sulfosuccinate, Cocamidopropyl betaine, cocamide diethanolamine, aloe vera gel, and fragrance. Plus, it has antistatic agents that leave coats manageable.
6. Cloud Star Buddy Wash

The 2-in-1 shampoo and conditioner of Cloud Star Buddy Wash can provide your dog a soothing, healing, and non-irritating bathing experience. It is made up of pure, all natural ingredients, and botanical extracts with a coconut base. Other ingredients include aloe vera for soothing skin and relieves itching; essences of lavender and mint, chamomile, and rosemary for fresh scent; wheat protein extracts that act as a natural deodorizing agent; tea tree oil that calms itchy skin; and antioxidant vitamin E that protects skin cells from sun damage and pollution.
5. Bubba's Rowdy Friends Ultra Oatmeal Pet Shampoo

Your dog will love bath time with Bubba's Rowdy Friends Pet Ultra Oatmeal pet shampoo. It has a high-quality spa formula that leaves coat and skin feeling better and amazing smell. This shampoo contains natural oils, vitamins A, D, E, along with other organic plant extracts, and oatmeal, which act as a moisturizer, conditioner, and deodorizer. These ingredients help replace lost oils in your dog's coat and skin without the use of harsh chemicals and remove the nasty smell. Furthermore, it relieves skin irritation from dry skin or flea and ticks infestation.
4. SynergyLabs Veterinary Formula Clinical Care Antiparasitic & Antiseborrheic Medicated Shampoo for Dogs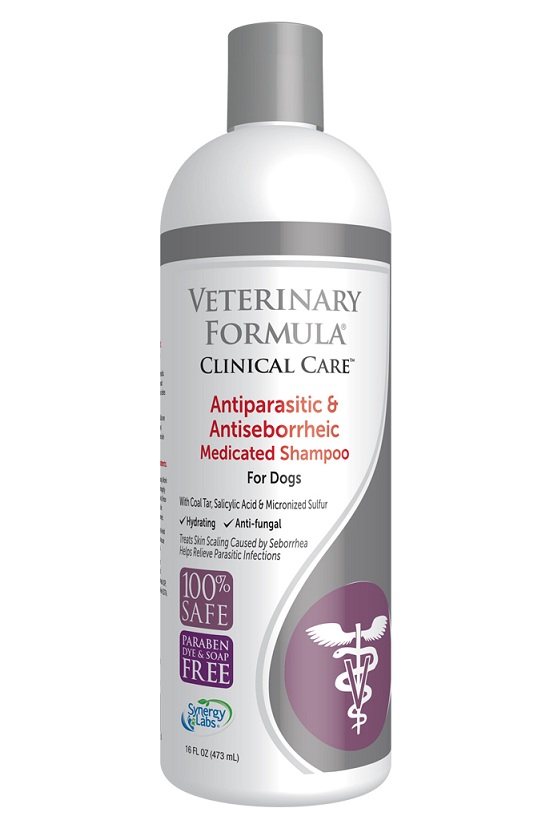 This shampoo is used for treating skin scaling in dogs caused by seborrhea and helps relieve mange and other parasitic infections. Its ingredients include coal tar, salicylic acid, and micronized sulfur that treats seborrhea, parasitic infections, and fungal infections. It also has colloidal oatmeal and allantoin that hydrate skin and promote healing. Initially, it must be used 2-3 times weekly. When your dog's skin condition improves, the frequency of use can be lessened.
3. OxGord Pet Wash Shampoo

The OxGord Pet Wash shampoo is a specially formulated for dogs who have dry and sensitive skin and coat. It contains 100% all natural and organic ingredients to cleanse deeply and moisturize your dog's coat. The all natural aloe, jojoba, and coconut oils relieve painfully and itchy skin caused by fleas, dander, and dryness while oatmeal, shea butter, and rosemary were combined to smooth and moisturize brittle coats. Plus, it has a tearless soap-free formula that makes hassle-free and painless bath time.

2. Tropiclean Hypo Allergenic Pet Shampoo

Getting your dog clean and healthy is possible with Tropiclean Hypo Allergenic pet shampoo. It is made of all natural ingredients to help clean and freshen your dog's coat and infused with 70% certified organic extracts that nourish and strengthen their skin and coat. It has mild coconut cleanser and lasting fragrance. You can be assured that this is safe for your dog because it is soap-free. When you use this shampoo to your dog, it has a rich lather and can be quickly rinsed from them.

1. Earthbath Totally Natural Pet Care Oatmeal & Aloe Shampoo

Effectively combating skin irritation, promote healing, and re-moisturizing dry skin is possible with Earthbath Totally Natural Pet Care Oatmeal & Aloe shampoo. With a combination of natural ingredients and vanilla and almond oil, your dogs will have a heavenly scent and will make them feel and look good. It is safe, gentle, and effective because it doesn't contain any soap but only with natural ingredients.