Top 10 Best Mini Trampolines of 2023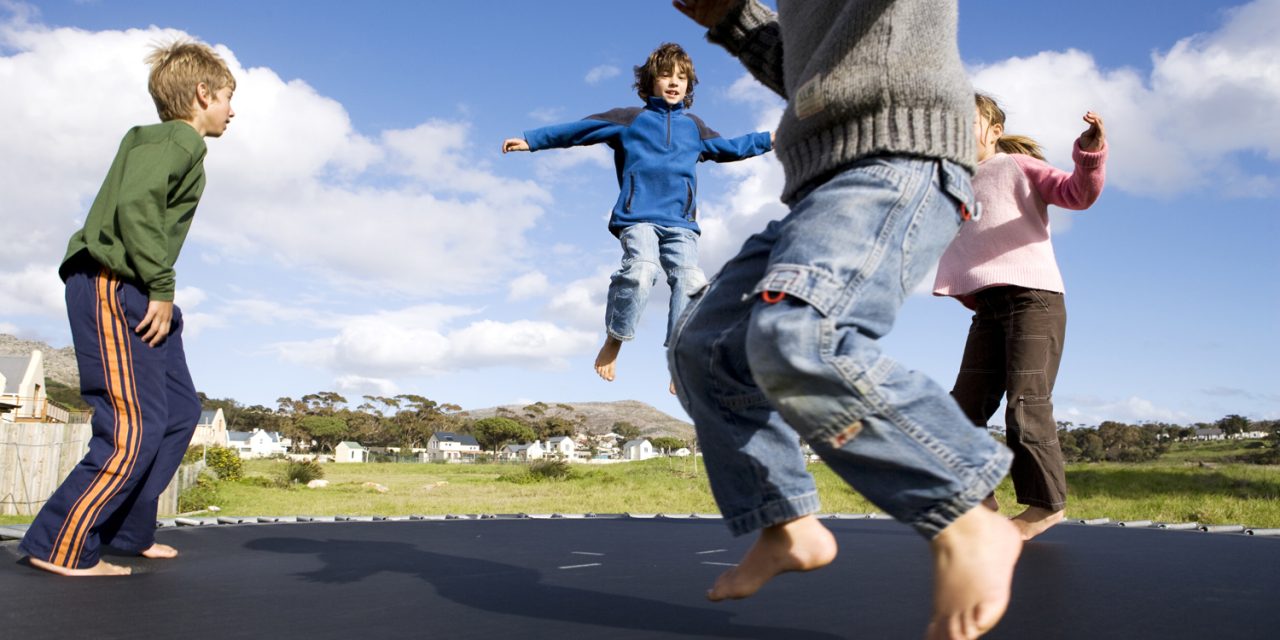 Kids are full of energy and demand to stay active. But with the development of technology, most of them choose to stay inside their rooms, seat all day, and face their computers, TV screens, or game consoles and be busy all day playing virtual reality games. Most of them hate the idea of exercising and running around. However, kids need regular exercise just like adults to be healthy and fit. One of the perfect ways to entice your kids to get outside and get moving is with the help of trampolines.
Trampolines offer several fun ways for children to move their body. By bouncing on its surface, it gives kids the opportunity to exercise for a few minutes every day. According to research, a child should play on a trampoline for at least 2.5 hours each week. All they need to do is to jump up and down on the trampoline mat for cardiovascular exercise. For younger kids or toddlers, they can do small bounces in the center of the mat. Make sure to supervise your kids to prevent injuries.
Here is our list of top 10 best mini trampolines:
10. JumpKing Mini Oval Trampoline

Let your children burn off energy using JumpKing Mini Oval Trampoline. It is designed with 3.5" galvanized springs, easy to assemble top rail system with 8 top rails, a rust resistant galvanized steel frame, a large jumping surface in unique oval shape, 2 handlebars for stability with height of 24" each, a colorful purple animal printed safety pad with mounting straps to secure the pad, and purple foam sleeve covers to match the safety pad. It has a maximum weight capacity of 110 lbs. and it can be used indoors or outdoors.
9. The Shrunks Kids Trampoline with Handle Bar

Make your children be active and have fun while staying safe with The Shrunks Kids Trampoline with Handle Bar. Safety is the main priority of this product; thus, it includes: hold-on safety crossbar that helps kids hold on more securely, super strong metal frame design, the jumping mat is textured for slip resistance, and the centered logo helps kid position themselves properly. This trampoline can be conveniently washed with mild soap and water. Plus, it is easy to setup, disassemble, and store away.
8. SkyBound Spring-Free Mini Trampoline with Handle Bar

Have a peace of mind while your children play using SkyBound Spring-Free Mini Trampoline with Handle Bar. This will help facilitate the development of legs and coordination of toddlers. The trampoline mat is attached to a strong, durable steel tube frame using elastic bands. In addition, it has a handlebar that is also made of steel and is padded with foam, which is designed to provide safety and extra stability to kids while jumping. This has a spring-free design to help protect children from hazardous sharp edges.
7.  Sportspower My First Trampoline

For younger kids, the Sportspower My First Trampoline is the best trampoline to play in. Its main feature is the safety enclosure design that ensures parents have unrestricted visibility of their kids. The trampoline is made of jump mat with the durable surface, steel frame made with galvanized steel tubes to prevent rusting, blow-molded plastic and steel tube leg structure for extra stability and support, and spring pad made with UV-resistant durable materials. The safety enclosure is made of high-quality, large diameter steel tubes, and UV-resistant PE netting.
6. Pure Fun Kids Super Jumper Trampoline

Build stamina and improve coordination, flexibility, agility, and balance of your kids with the help of Pure Fun Kids Super Jumper Trampoline. It has a 48-inch jumping surface that provides plenty of space to safely bounce and jump. For superior bouncing, it is equipped with 42 sturdy 3.5-inch galvanized steel springs. The padded 35" high handlebar provides extra stability to ensure a safe and fun workout. This trampoline is recommended for children ages 3 to 10 and up to 100 lbs.
5. Stamina InTone Oval Jogger

If your kids are involved in sports then the Stamina InTone Oval Jogger is great workout equipment for them. It will improve their cardiovascular fitness, have more energy, increase their metabolism, and keep them fit. This trampoline is designed with motivational multifunctional electronic fitness monitor that tracks jumps per minute, workout time, total jump, and calories burned; two resistance tubes; adjustable foam covered handlebar; safety pad; oval rebounding surface for stability; and optic blue border that keeps your jumping inside.
4. Diggin JumpSmart Trampoline

Exercising and learning fun games is possible with the help of Diggin JumpSmart Trampoline. Its main feature is the five-in-one multigame sound system which includes Bounce Counting, Musical Statues, Silly Sounds, Animal Sounds, and Memory Match. This electric mini trampoline is perfect for keeping children ages 3 and above (with a weight limit of up to 80 lbs.) active indoors. It has a triangle shape with two handles that are similar to a bike and brightly colored bumper pads.
3. Skywalker Trampolines Seaside Adventure Bouncer

Your kids will love to move, exercise, and play in Skywalker Trampolines Seaside Adventure Bouncer. Its enclosure has a gap-free design that attaches it to the jumping surface so you can be assured that your kids are safe while having fun. The stretch-band surface offers a fun yet soft bounce with no springs and pinched fingers. Its other features include brightly colored zoo animal pictures; soft padded handle; wide-frame base and arched enclosure poles that keep the bouncer stable; and soft, padded cover that protects your kids from metal parts and the elastic bungee cords as they climb in and out.

2. Little Tikes Trampoline

Toddlers will surely love to learn how to bounce and do some exercise using Little Tikes Trampoline. It has a large jumping surface, which is a perfect size to provide hours of bouncing fun. This is made of a combination of plastic and metal with a handlebar for stability. It is easy to move inside the house, so kids can bounce wherever they like and anytime they want.

1. Stamina 36-Inch Folding Trampoline

The Stamina 36-Inch Folding Trampoline will make your exercise and family bonding more fun. It is an effective, safe, progressive way to exercise at home with its unique design that folds down into smaller components when not in use. Its features include:
36-inch diameter bouncing surface
Folding design that saves space when not in use
Rugged, all-steel and polypropylene frame construction
Vinyl covering over the frame and resistance bands to protect your feet
Heavy-duty rebounding surface
Safety pad
Thirty-band tension resistance, with each band being 2 inches wide for durability and stability
6 detachable rubber-tipped legs so it won't scratch the flooring
Weight capacity: 250 lbs.