Top 10 Best Golf Bags of 2023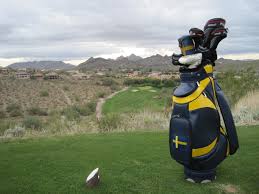 Golf is considered a gentleman's sport. It is different in many ways when compared to other sports and not everyone is cut for it. The ones that truly appreciated it know how relaxing and how noble golf really is. Maybe this is the reason why so many decide to start golfing as a means to disconnect and relieve stress.
Like with any other sports even when practiced at an amateur level, getting the right gear is mandatory. Some chose to rent the equipment but the only way to get better is to play consistently using the same shoes, clubs and the same bag.
Having the best golf bag on the market can do things for the convenience of your golf game. With more space and lighter materials, modern golf bags enable you to be prepared for any events that will happen on the golf course. A good golf bag needs to have space for golf clubs, golf balls, gloves, rain gear, umbrella, tape, coins, food, drinks, valuables, and much more.
There are two standard types of bags to choose from when looking at what is available. The first type of bag is the carry bag. This bag gives you two shoulder straps to use and is ideal for walking players. The second type of bag available is the car bag. Depending on your needs, one of these types will be the best golf bag for you. Here are the Top 10 Best Golf Bags of 2016:
10. Sahara Explorer Cart Bag

The Explorer Cart Bag is designed with an umbrella holder, a rain hood, a towel ring and a large insulated cooler pocket, this golf bag is an ideal companion for the course.
Total of 8 pockets
11-way divided top
Padded shoulder strap
Box dimensions: 48 inches long x 12 inches wide x 12 inches high
Weight: 4.75 pounds
9. Callaway 2016 Hyper-Lite 5 Stand Bag

The Hyper-Lite 4 Single-Strap Stand Bag gives you lightweight performance, plenty of storage with 9 pockets, and more stability for a comfortable bag that's easy to carry.
9", 5-Way Divider Club Organization System with a Re-engineered Molded Handle
Quick Release Comfort Tech Strap System – Ergonomic EVA Foam Core with Soft Mesh Padding
E-trolley Base System Integrates with Many Push Carts
8. OGIO Press Stand Bag

This golf bag has a seven-way organizational top that keeps all clubs in their place. The four-point shoulder strap makes carrying comfortable and the six total pockets ensure the golf bag is convenient to use.
7-way organizational top keeps clubs organized and easily accessible
4-point shoulder strap makes walking the course comfortable
Walking accessible water bottle holster keep beverage at reach
Fleece lined valuables pocket safely stores personal items during play
6 total pockets keep all equipment and accessories organized
7. Tour Edge Men's Hot Launch Stand Bags

With 4-way padded dual carry straps, a foam padded hip pad and an automatic stand, this Tour Edge Golf bag is ready for a long golf trip.
6-way divider top provides club organization while keeping clubs protected during carry
6 roomy pockets
Velour-lined dry pocket
Insulated beverage pocket
Extra-large garment pocket
6. Wilson 2015 Cart Lite Golf Bag

The sturdy construction of the Wilson Lite Cart ensures durability through various conditions. Lining inside the valuables pocket keeps your accessories dry and protected, and a large beverage pouch is just what you need.
8″ x 9.5″ top with 6 dividers
Tube construction
Diamond polyester fabric
7 closed pockets
Insulated water bottle sleeve
Towel ring / Glove holder
Rain hood
5. Affinity ZLS Stand Bag by Intech

Affinity's ZLS Stand bag features a six compartment top, two large garment pockets, one accessory pocket, a golf ball pocket, and a carry strap.
6 way top
Golf ball pocket
2 Large Garment Pockets
Accessories Pocket
Lightweight
4. TaylorMade Supreme Golf Stand Bag

The TaylorMade Supreme Hybrid Stand Bag is benefits from many functional features including a crush resistant construction, comfortable carry straps and 10 pockets making this bag a "Supreme" golf bag. The 14-way top with handle and 4 full length dividers allow you to organize your golf clubs exactly how you like, while a 2 slot gap accommodates oversized putter grips. 4 point shoulder straps with air mesh and EVA ergonomically molded hip pad ensures that this bag is comfortable to carry. Making it easy to move across short distances is the carry handle and the webbing car boot handle.
3. Callaway 2015 Hyper-Lite 5 Golf Stand Bag

The 2015 Callaway Hyper Lite 5 Stand Bag is everything you need in a lightweight golf bag packed with high performance features. The Callaway Hyper-Lite 5 stand bag features a larger 9.5-inch top and the Comfort Tech double carry strap system that ergonomically fits your shoulder for a comfortable carry.
5″ top with integrated top handle
5-Way club divider top
Re-design Comfort Tech strap system ergonomic design
8 total pockets total
Water bottle pocket
Rangefinder/GPS pocket

2. TaylorMade 2015 Catalina Cart Bag

Keep gear organized and secure when hitting the course with a Catalina Cart Bag. A 15-way top with 4 full-length dividers and an oversized putter well keep your clubs separated and safe as you drive to your next shot. 10 pockets, including 2 velour-lined valuables pockets and 2 garment pockets, allow you to bring all the essentials. Cart secure straps and a push cart compatible base equip the TaylorMade Catalina Cart Bag with added quality.
15-way top with 4 full-length dividers for club separation and protection
Crush resistant body construction provides complete protection for equipment and contents
10 total pockets provide plenty of storage options for accessories and other course essentials
Pockets include 2 velour-lined valuables pockets, 2 oversized garment pockets, and 3 accessory pockets
Cart lock and pass through cart straps prevent unwanted movement on riding or push carts

1. Nike Air Sport Lite Stand Bag

Effortlessly navigate the links with a Sport Lite Carry II Stand Bag. Weighing less than 4 pounds, this bag features a 5-way top with 2 full-length dividers for storage. Nike EquaFlex Max Air shoulder straps pair with a ventilated air mesh back pad for comfort during your carry. 6 pockets, including a fleece-lined valuables pocket and full-length apparel pocket, create secure gear storage within the Nike Sport Lite Carry II Stand Bag.
5″, 5-way oval top with 2 full-length dividers for club organization and protection
6 functional pockets (5 zippered) provide plenty of storage for important gear and accessories
Integrated GPS loop and pen sleeve keep important accessories within reach at all times
Constructed of lightweight, durable materials for added quality
Stand Bag weighs in at less than 4 lbs.