Top 10 Best Inversion Tables of 2023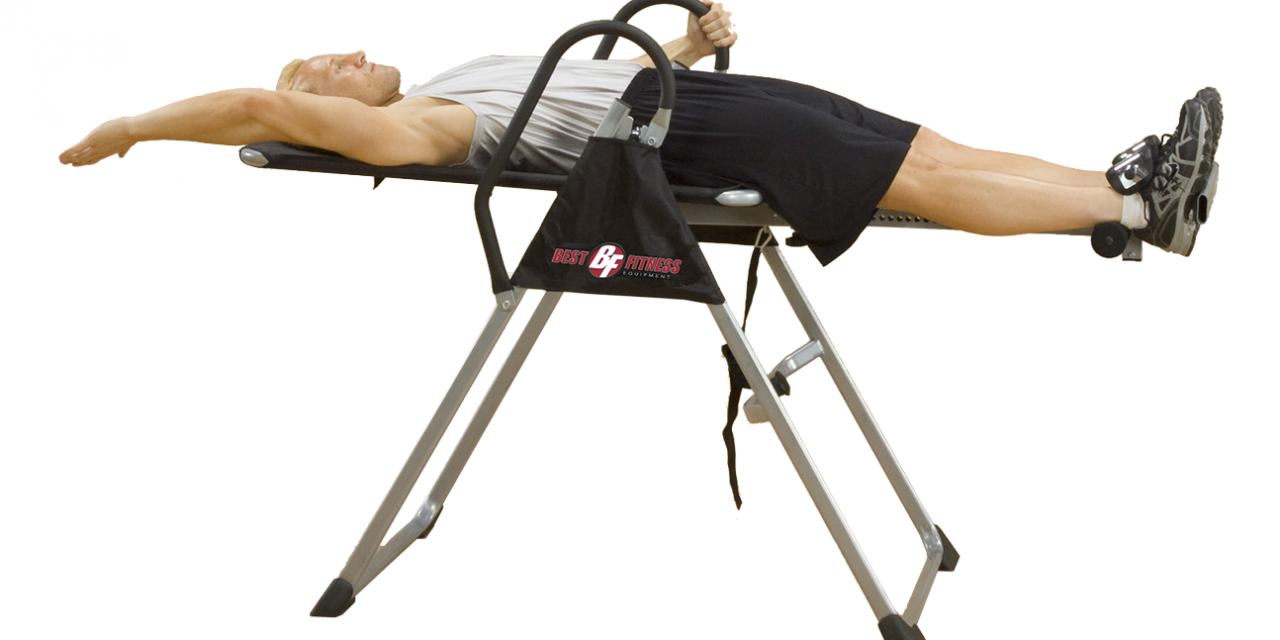 Did you know that just for a few minutes of using inversion table you can gain several benefits? With the inversion therapy, you will be able to reduce fatigue, stress, and relax your whole body for a short time. Other benefits included are: relieving pressure on vertebrae discs and ligament to reduce back stress; promote stimulation of blood circulation to relieve stiff muscles; reduce the effect of aging due to gravity; increase body flexibility to improve athletic performance; relieve lower back aches due to sitting, standing or any other activities that cause of muscle stress.
Below is our list of top 10 best inversion tables that can provide you a short-term relief from stress and back pain.
10. Health Mark Pro Max Inversion Therapy Table

Relax your back and relieve your stress with Health Mark Pro Max inversion therapy table. You can do the traditional face-up position, as well as face down that can allow simultaneous massage stimulation. The table can support up to 600 lbs. of body weight. It is designed with 180-degree inversion and 6 preset angles so that you can do complete abdominal work, back hyperextensions, and full gravity traction. Construction details include easily accessible front and rear ankle brackets, a rolled thigh and knee support, a foam-padded back support, a crescent-shaped head/face rest, and 25 height settings to accommodate heights of up to 6 feet 6 inches.
9. Emer Premium Gravity Back Therapy Fitness Exercise Inversion Table INVR-06B

At the comfort of your own home, you can have Emer inversion table. This is designed with full 180-degree inversion, adjustable height for users from 4 feet up to 6 ½ feet tall, stationary platform frame for maximum stability, upgraded easy ankle lock and release system, and supports 300 pounds maximum weight capacity. This inversion table can alleviate back pain, increase flexibility, and improve joint health by simply using it for minutes every day.
8. Pure Fitness Inversion Therapy Table

If your place doesn't have space for a bulky inversion table, you should choose the Pure Fitness inversion therapy table. It is excellent for small spaces with limited storage. This table is great for stretching, posture, relief of back pressure, and increase blood circulation. Its features include curved handles for varied grip positions, three positions bench with adjustable leg height, and contoured bench padded with high-density foam and upholstered with durable, washable vinyl for added comfort. It is compact, yet sturdy and folds for easy storage. Note that it can only support a maximum weight of 220 lbs.
7. ALPINE© Pro Deluxe Inversion Table

Are you having a problem searching for the right inversion table due to waist problem? Worry no more because there is Alpine© Pro Deluxe inversion table. This is perfect equipment to fight compression fatigue, help posture, increase body flexibility, reduce back stress, stimulate blood circulation, and eliminate back and neck pain. It is designed with heavy duty steel frame, 3 position roller hinges that provide control for rotation, padded ankle clamp holds, and can be adjusted for users with a height between 4'10 to 6'5".
6. Best Choice Inversion Table Pro Deluxe

Give yourself a break from stress with Best Choice Inversion Table Pro Deluxe. Its features include a heavy-duty steel frame, padded ankle clamp to hold users in one place, adjustable user heights from 4'10" to 6'6", can support a maximum capacity weight of 300 lbs., the width of the table is 18", and 3 position roller hinges that provide control for rotation. Use this table to relieve stress to your lower back by relieving pressure on the discs and nerve roots, increase blood flow to your lower spine, increase body flexibility, and helps with posture.
5. Invertio Premium Folding Inversion Table

Push your limits with the Invertio Premium Folding inversion table. It has better features than other inversion tables, such as total 240 degrees of rotation using the high-tensile strength limiting strap; comfortable padded head and backrest with additional lower back support cushion foam roller ankle supports and padded handrails; 26 easy-to-use height adjustments with user heights from 4'10" to 6'6" and 8-position adjustable supports; 3-position pivot joint to control rotation speed; extra-long 40" handrails to help users invert and return to the upright position safely and easily; fully-breached, non-rocking frame for users up to 300 lbs.; and non-marring composite feet to prevent movement on any surface and protects your floors.
4. Teeter EP-560 Ltd. Inversion Table

With only a few minutes to spare, you can relieve back pain, stretch and relax muscles, encourage alignment, and build core strength with Teeter EP-560 Ltd. inversion table. This is specially designed with adjustable acupressure nodes and lumbar bridge accessories to place pressure on muscles trigger points and provide extra traction on the lower back for deeper decompression benefits. Moreover, it also includes pressure-reducing specialty foam ankle supports, a patented track-style bed, and heat-treated, heavy gauge steel materials.
3. Exerpeutic Inversion Table

You can experience Inversion Therapy in your own home with an Exerpeutic inversion table. For a very affordable price, you can free yourself from stress and get back relief. This equipment is designed with heavy-duty 1.5-inch2 steel frame with powder coated finish, backrest with soft foam, foam roller and ankle cushions, easy pull pin ankle release system, adjustable tether strap to allow different inverting angles, full loop foam covered handle bars for easy return to upright position, user weight capacity of 300 pounds, and user height adjustment range of 4'10" to 6'6".

2. Innova ITX9600 Heavy Duty Deluxe Inversion Therapy Table

Equipped with True Balancing system, Innova ITX9600 Heavy Duty Deluxe inversion therapy table can easily accommodate your inversion therapy needs. This latest inversion table has unique 5-position side inversion pin that makes varying degrees of inversion simple. Just position the pin in your desired decline position. Plus, it has heavy gauge steel tubing to support the maximum weight of 300 lbs., fully padded extra-long and extra wide backrest support, and thick foam roller and soft touch foam handlebars. It can accommodate users with a height of 4'10" to 6'6".

1. IRONMAN Gravity 4000

The IronMan Gravity 4000 inversion table includes the following features:
180-degree vertical inverting position
Removable lumbar pillow for extra lower back support
Supports weight up to 350 lbs.
Patented easy reach 'Palm Activated' adjusted ratchet ankle locking system
Ergonomically molded ankle cushions that hold ankles securely and comfortably
Height adjustment of up to 6'6"
Three adjustments for different starting inversion angles
Tough rubber non-skid floor stabilizers to prevent any movement during inversion
2 ½ inches thick memory foam vinyl covered backrest